An injunction imposed on litigants has been discharged after the court found evidence presented by solicitors on the case had been 'comprehensively inaccurate'.
In Valbonne Estates Ltd v Cityvalue Estates Ltd & Anor the High Court had granted Valbonne the injunction in December to restrain the other parties from acting over a disputed property. In a further two-day hearing last month, Valbonne had applied to continue that injunction to trial, while the respondents sought for it to be set aside on the basis of a series of alleged misrepresentations and non-disclosures in the December hearing.
During the latest proceedings, it was described by Mrs Justice Bacon how a translation of a key document presented to the court was a 'complete fabrication'. The judge did not apportion any blame to representatives of Valbonne but said the 'inescapable conclusion' was that the court was 'seriously misled'. The injunction ordered in December was discharged and will not be re-granted, after it was found to have been obtained on the basis of 'serious and substantial' breaches of the duty of full and frank disclosure.
The court heard how the property dispute had arisen between companies owned by members of the ultra-orthodox Jewish community in north London. The parties agreed that the dispute would be subject to arbitration tribunal before the Beth Din of the Union of Orthodox Hebrew Congregations.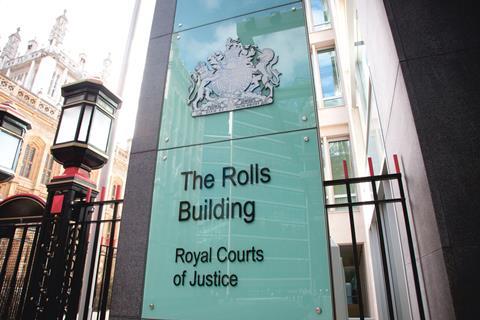 In order to obtain the injunction, Valbonne had to satisfy the court it had complied with a Beth Din award and that the tribunal had been varied by a second award, which purportedly gave them more time. The evidence from Valbonne's solicitor was 'unambiguous', stating that the Beth Din had handed down a written decision in Hebrew on a second award – headed as the 'final award' – which superseded the first.
But the court heard this was in fact a purely oral decision that was never put in writing by the Beth Din whether in Hebrew or English. The purported translation of the second award, exhibited as part of a solicitor's witness statement, was therefore a translation of a document that never existed.
Mrs Justice Bacon said: 'I do not accept that the inaccuracy of the information given to the court could have been inadvertent or accidental.'
She added there was no explanation of how this had been an innocent mistake, although there was an acknowledgement (though no apology) that the second award was 'never formalised in writing'. There was no finding that any solicitor knew their evidence was misleading at the time of the witness statement being submitted.
Gary Blaker QC (instructed by SBP Law) appeared for the applicant Valbonne. Harry Hodgkin (instructed under the public access scheme) appeared for the first respondent. Edward Levey QC (instructed by Stewarts) appeared for the second respondent