A bid by the Legal Aid Agency to undermine protest action being taken by criminal barristers over low fees 'smacks of desperation' and will not work, solicitors have said.
Amid a dispute over legal aid rates for defence work, criminal barristers began a work to rule on Monday, implementing a 'no returns' policy. While they continue to represent clients in their own cases, they are refusing to pick up last minute cases passed on from other barristers.
The LAA is looking for solicitor higher court advocates (HCAs), qualified to appear in Crown courts, to pick up the cases no longer being covered by barristers.
On the fourth day of the barristers' work to rule, the body that administers the legal aid budget wrote to criminal law firms asking them to register their interest in picking up Crown court cases for their available HCAs.
From next Wednesday, the LAA said it will running a temporary helpline for firms 'who need to secure alternative representation to find higher court advocates (HCAs) who may be able to represent clients in the Crown court'. It said: 'Providers calling the helpline will be connected to staff at the Defence Solicitor Call Centre (DSCC) who will hold the LAA list of providers, with HCAs, who may be able to help and accept instructions for advocacy services at different locations.'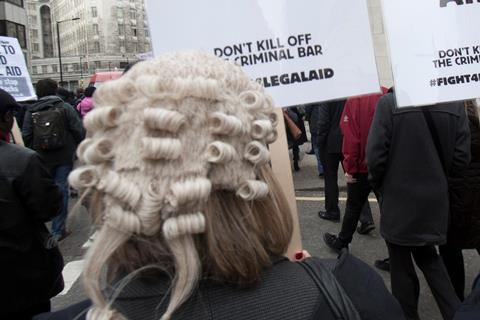 The LAA said that HCAs at firms who have been listed as willing to take cases will not be obliged to take cases referred to them.
Several criminal defence firms have already said they will not be signing up to the scheme. Once HCA tweeted: 'Feels like crossing a picket line to me.'
Andrew Wesley, an HCA and partner in charge of Crown court work at VHS Fletchers told the Gazette: 'We will not be offering our HCAs to cover cases and I hope that nobody else shows any support for it either.'
Daniel Bonich, president of the Criminal Law Solicitors' Association, said: 'It's up to individual firms if they want to take part in it to make their advocates available, but it smacks of desperation from the LAA. I don't think it will work and they'll find there are very few takers.'
The Law Society has already expressed support for the barristers' action. President I. Stephanie Boyce said: 'It will not be surprising if many solicitors decided independently that for professional or commercial reasons, they are unable to take on work where they cannot be confident either of finding an advocate for the case, or of it being economically viable to undertake the advocacy in-house.'
Commenting on the LAA's letter, a Chancery Lane spokesman added: 'We would not be surprised if many HCAs decide independently that they are unable or unwilling to take on such work.'
Jo Sidhu QC, chair of the Criminal Bar Association, said: 'The letter from the LAA is an entirely predictable and desperate appeal for help.'
Meanwhile, guidance from the Solicitors Regulation Authority told firms that they had to make 'proper efforts to find a replacement advocate, whether it be a barrister, or a solicitor advocate' in order to comply with the code of conduct. This includes contacting 'as many chambers or firms as possible' and informing the court and the prosecution 'at the earliest opportunity to assist with proactive case management'.
This article is now closed for comment.