Legal technology expert Steve Dalgleish has been awarded Accredited Legal Technologist status by the Law Society of Scotland.
Dalgleish, head of technology at leading Scottish independent Shepherd and Wedderburn, is the first non-solicitor to receive the quality mark.
The voluntary professional accreditation for those working in legal technology is the first of its kind in the UK. It was launched by the Law Society of Scotland last November 'to reflect the growing need for technology-based solutions specific to the legal services sector, alongside the emergence of new roles such as legal process engineer, legal analyst, and legal technologist'. It has been designed to recognise both solicitor and non-solicitor technology specialists working in the sector. There are now four Law Society of Scotland Accredited Legal Technologists.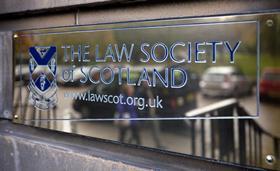 Dalgleish said: 'This accreditation reflects the work we do to help our clients address complex legal and business issues through the use of people, process and targeted technology. I am thrilled to be awarded Accredited Legal Technologist status and look forward to working with the Law Society in building a community of individuals to raise the bar for legal solutions.'
Rob Marrs, Head of Education at the Law Society of Scotland said: 'We hope that our accreditation will become something that those working in legal technology around the globe will wish to hold as it provides assurance to the public, clients and to the legal profession."
Through the Accredited Legal Technologist, which is a voluntary accreditation, the society said it aims to build a community of technologists who work to drive excellence in the legal technology profession in Scotland and further afield. The accreditation costs £300 plus VAT and lasts for three years.