A legendary Liverpool solicitor who advised the likes of John Lennon and Bill Shankly during a remarkable career has died, aged 91 - and still on the roll.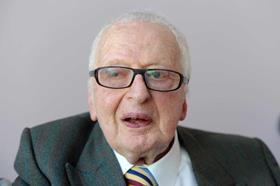 Rex Makin, admitted in 1949, founded his own firm in the city and was reputed to have coined the phrase 'Beatlemania'.
Today the firm, E. Rex Makin & Co announced the death of the senior partner and said he will be remembered with 'affection and respect' by colleagues, staff and clients. The firm added: 'He was part of Liverpool's history, a great character and champion of the underdog. His philanthropic work reached throughout the city and beyond.'
Makin's son Robin will continue to run the practice.
According to the firm's website, Elkan Rex Makin was born in Birkenhead and moved to Liverpool when he was three years old. He studied law at the University of Liverpool, and had an honorary professorship from Liverpool John Moores University and an honorary doctorate from Liverpool Hope University.
In a long and varied career he worked on cases including the 1952 Knowsley Hall murder case (in which Lady Derby was shot), the Heysel and Hillsborough stadium disasters and the Walton sextuplets.
Meeting the Liverpool solicitor, who died this week aged 91, was like having an audience with the Pope.
He advised the likes of Gerry Marsden, Ken Dodd and Carla Lane and was the family solicitor to Beatles manager Brian Epstein.
Appointed a Freeman of the City of Liverpool in 2003, he said: 'The ordinary people of Liverpool and I have had a long love affair. I've been there in all their disasters and most of their triumphs.'
Tributes have poured in from across the legal and political sectors. Joe Anderson, Mayor of Liverpool, described him as a 'colourful character' and said flags will fly at half mast from council buildings.
Richard Kemp, leader of the city's Lib Dems, said: 'I didn't always agree with him but he was always a fighter for Liverpool and its people.'
Liverpool Echo columnist Gary Bainbridge said Makin was 'the most famous man in Liverpool, who was also virtually unknown outside Liverpool'. The paper's former crime reporter Peter Harvey tweeted: 'I regularly rang Rex Makin. He never once said goodbye - just hung up when he'd had enough.