Macfarlanes has become the second City heavyweight to publish gender pay gap data for 2018, joining a growing band of firms which have bowed to pressure to include partner earnings.
The disparity is stark in consequence, which the firm partly attributes to a female-heavy secretarial pool and the fact that just 12 of Macfarlanes' 85 partners in 2017/18 were women. In that year the mean pay gap including partners was 75% across the entire firm - and 54% among partners alone. Among associates, there was a mean gap of 4%, which the firm said was mainly caused by the introduction of a new bonus scheme in July 2017 which paid out to more men than women.
In business services (excluding secretaries) the mean gap was 7%.
Men were also paid more in bonuses overall - the mean statutory bonus gap was 33%.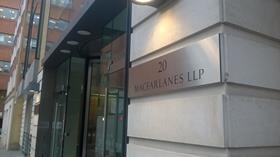 Every UK employer with over 250 staff must now report gender pay gap information annually using the snapshot date of 5 April. The omission by many firms of partner pay in their maiden reports earlier this year - on the grounds that the partners are not employees but owners - proved highly controversial.
Last month magic circle firm Allen & Overy revealed a 39% gender pay gap disparity within its entire workforce - six months after omitting partners from its first report because the data 'would not tell us anything we don't already know'.
Macfarlanes says in its latest report that it is 'serious' about reducing the gender pay gap 'where possible'. Last year the firm announced that the gender imbalance in senior roles is a 'strategic priority' for the firm.