National firm Irwin Mitchell has pledged to power all its offices through renewable energy within the next three years. The target was announced to coincide with World Environment Day and was part of a series of aims set out for how the firm will be more sustainable in future.
Irwin Mitchell says it wants to accelerate progress towards green targets and ultimately achieve carbon net zero by 2040.
The firm intends to achieve 100% renewable electricity across all 15 UK offices by 2025 and in the same year, the intention is to reduce emissions from the firm's facilities and vehicles by 60%.
By 2030, the target is to have halved emissions on everything from purchased goods and services to business travel and employee commuting.
The firm's supply chain will also come under fresh scrutiny for its environmental impact.
Louise Needham, environmental sustainability manager at Irwin Mitchell, said it was crucial for businesses to avoid 'greenwashing' through purporting to help the environment without making tangible changes.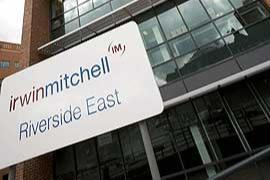 'Our commitment to sustainability and the environmental approach are being ramped up to ensure we'll be leading the way in the transition to net zero and a more sustainable future for all,' she said.
'The roadmap we have set out today is ambitious, but it is an opportunity to challenge ourselves to do better and to proactively continue to lead on what we know is a key issue for our clients, colleagues and the communities in which we operate.'
Irwin Mitchell was a founding member of the Legal Sustainability Alliance in 2008, a collection of firms, law schools and in-house counsel sharing best practice and working together to ensure the profession plays its part in tackling the climate crisis.
An article published last year by the International Bar Association outlined that the climate crisis is increasingly a priority for lawyers in deciding where they work. Firms reported that they emphasised their carbon neutrality in recruitment and published their footprint on their websites.
One lawyer with a US firm told the IBA: 'New generations of young lawyers all over the world are demanding it in every aspect of the practice, and firms will lose out on top talent if they don't think seriously about these issues and respond accordingly.
'We need to put the same level of creativity toward these issues internally as we do for our clients. I expect new lawyers will continue to demand that law firms focus on issues including climate change, environmental and social justice and flexibility – and they will expect accountability for any big promises firms may make.'
This article is now closed for comment.