High-profile barrister Cherie Blair QC has said there must not be a return to old working patterns when the pandemic is over. Blair told a panel session at London International Disputes Week that the way law firms and chambers had responded during lockdown had shown that things could be done differently.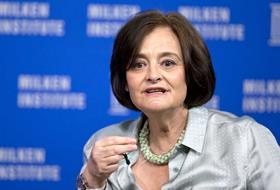 Asked about flexible working and whether it might help to encourage people to join and stay in the profession, she said: 'We are not going to go back to the way we were – partly because of the issues around client demands and because we ourselves as practitioners, parents and individuals, who have a life as well as commitment to our firm, are going to say "this is not how we want to be anymore".
'Presenteeism is a curse and not a blessing and we can do things differently.'
Several leading firms have unveiled plans to allow staff to work a set amount of time away from the office if they choose, with a handful even committing to letting staff choose where and when they work on a full-time basis.
On the same panel as Blair, Charlotte Hill, senior associate with London firm Penningtons Manches Cooper LLP and president of the Junior London Solicitors Litigation Association, urged junior lawyers to speak up if they want to work flexibly.
'So long as you are fulfilling your duties and servicing clients, there needs to be a level of trust,' said Hill. 'It needs boundaries and as juniors we need to have a voice and speak up. I know it is difficult but it is the only way we are going to get that work-life balance.'
Hill said senior lawyers at firms should be conscious of the demands they are placing on junior colleagues. She highlighted that some lawyers may be working flexibly and sending emails late at night, prompting recipients to think they have to reply immediately. Hill suggested emails sent at night should be clearly labelled as not needing a response urgently.
Meanwhile, south east firm Blandy & Blandy, which has 100 people working from offices in Reading and Henley-on-Thames, this week became the latest legal practice to announce a future of hybrid working, split between the office and elsewhere. Staff will be able to spend up to 50% of their working time outside the office environment when social distancing restrictions are lifted.
Joint managing partner Tim Clark said: 'We have all missed the opportunities and interactions which office-based working facilitates. However, we believe that a balance between office-based working and working from home, or elsewhere, will actually improve the service which we can offer to clients, by ensuring that our colleagues are able to be flexible and agile in the way they deliver that service.'