A new lord chancellor and secretary of state for justice – the fourth in a row without legal qualifications – will be sworn in today as the government prepares to unveil a stripped-back Queen's speech in the aftermath of the election.
David Lidington MP's team at the Ministry of Justice includes Dominic Raab MP as minister of state and undersecretaries Sam Gyimah MP and Dr Phillip Lee. Lord Keen of Elie (Richard Keen QC), the advocate general for Scotland, remains minister of justice in the Lords. Jeremy Wright QC remains attorney general.
The first task facing the minority government will be to get the Queen's speech, due on Wednesday, through parliament. As the Gazette went to press, leading legal commentators predicted that it would be shorn of several controversial pledges. According to reports, one casualty will be the prime minister's pledge to amend human rights legislation in terror cases. Another is likely to be the manifesto pledge to merge the Serious Fraud Office with the National Crime Agency.
However Gazette columnist Joshua Rozenberg speculated that the Prisons and Courts Bill, abandoned when parliament was prorogued for the election, could be revived and introduced through the House of Lords. This would allow MPs to concentrate on the Great Repeal Bill to lay the foundations for Brexit.
The Law Society last week warned of the risks of a hard Brexit, urging the government not to 'commit an act of self-harm and unravel our economy'. President Robert Bourns called on negotiators to work with businesses, including the legal sector, to ensure benefits achieved through EU membership are retained.
Key issues for lawyers include recognition and enforcement of judgments; maintaining legal certainty throughout the Brexit process; and cross-border practice rights.
Chancery Lane stressed that EU-wide arrangements have supported the growth of networks established by English and Welsh firms across the EU, and firms from other EU jurisdictions to open and practise in and through London.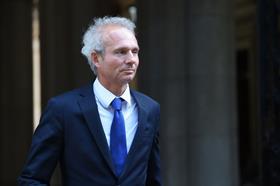 One complication facing the minority government is the constitutional status of measures it proposes to keep the support of the Democratic Unionist Party. Nicholas Evans, head of public law at Bircham Dyson Bell, noted that if a coalition were to be formed between the Conservatives and DUP, the Lords can legitimately argue that any measure not included in both parties' manifestos is outside the scope of the 'Salisbury-Addison convention' on overruling the lower house.
'The lack of a majority in the Commons may also mean that the government has to compromise on more issues,' Evans said.
The prospect could be many months of parliamentary 'ping-pong' on controversial issues.