Lord chancellor Dominic Raab personally intervened to increase the Solicitors Regulation Authority's fining powers, it has emerged. A ministerial response to a written parliamentary question revealed that Raab sounded out the Law Society, SRA and Legal Services Board to ask their views on the SRA's proposal to raise its maximum fining threshold from £2,000 to £25,000.
Justice minister James Cartlidge said Raab's involvement was 'with the view of enhancing the SRA's enforcement powers to create a stronger deterrent to solicitor misconduct'.
The minister continued: 'The department is also continuing to work closely with regulators and professional bodies to identify tools that will further assist regulators in carrying out their duties under the sanctions regime, while protecting the rule of law.'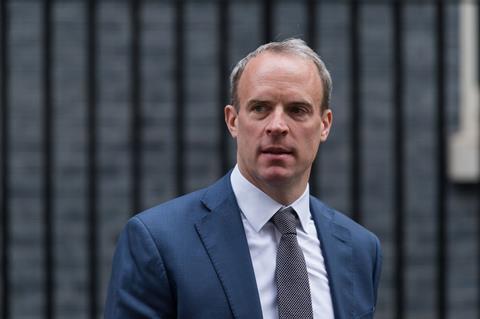 His answer was in response to a question from shadow justice secretary Steve Reed about steps taken by the government to ensure compliance with the government's Russian sanctions.
Earlier this year, Conservative MP Bob Seely urged the government to 'toughen up' the SRA and accused law firms of failing to carry out proper checks on clients. The regulator said it would contact Seely for evidence of misconduct.
In April, the SRA confirmed it had started visits of a sample of firms to assess their compliance with financial sanctions. Practices named in parliamentary debates were picked out for spot checks and inspections.
Raab's interest in the SRA's fining powers is the first sign of government action in response to the accusation that lawyers have enabled Vladimir Putin's regime.
But Cartlidge also appeared to suggest that the existing regulatory regime could suffice to prevent wrongdoing. He added: 'Lawyers are required to follow strict procedures when transacting with sanctioned individuals. Those individuals are required to obtain a licence from the Office of Financial Sanctions Implementation to make payments for legal services, and lawyers should carefully consider whether their advice is helping the client to comply with the sanctions or is participating or facilitating a breach of those sanctions.
'There are severe penalties for breaches, including fines and potential imprisonment.'
This article is now closed for comment.