The regulator has defended its use of multiple-choice questions in the Solicitors Qualifying Exam (SQE), saying they reduce the risk of discrimination against candidates with protected characteristics.
The SRA's director of education and training, Julie Brannan, said an 'important advantage' of multiple-choice questions is the fact they are objectively marked, which removes the 'risk of human interaction in the process'.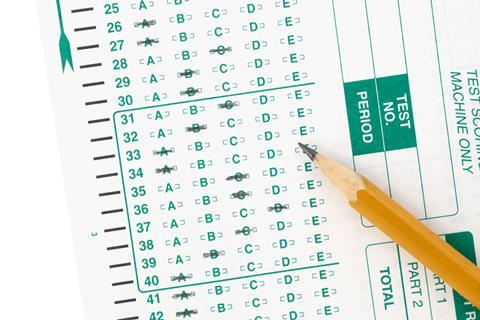 Speaking at the SRA's annual SQE conference, Brannan said: 'It's a really good method of eliminating a whole area of possible difficulty - and also giving us data to drill down to see if the questions do work properly.' The first stage of the SQE will be entirely multiple-choice.
The SQE's independent reviewer, Geoff Coombe, said 'single best answer' tests – in which candidates pick the best answer from a range of options – are 'about as objective as you can make any type of assessment'.
'They are often thought to be overly easy because they have a multiple-choice element. That is not the case... They are very rigorous and demanding assessments,' he said.
To ensure fairness of opportunity, Coombe said questions should not contain 'unnecessarily complex language beyond the necessary legal language'. He added that SQE1 questions will generate a 'very rich data set' through which the SRA can analyse the perfomance of different types of candidate. 'That data set has never been available before in a solicitor qualification context,' he said.
The SRA has also commissioned research into reasons behind the 'very well-evidenced underperformance by ethnicity' in professional assessments.