Former health secretary Jeremy Hunt has questioned whether clinical negligence lawyers are blocking vital reforms because the status quo is too lucrative to change.
Hunt, the chair of the health and social care committee, spoke today following a two-hour hearing on the merits of non-adversarial systems in other parts of the world.
Following evidence from claimant lawyer Guy Forster and patient charity boss Peter Walsh backing the current system, Hunt asked why neither was willing to support a no-fault system that would create a less 'confrontational' relationship between doctors and patients and allow lessons to be learnt by health professionals.

Hunt said: 'I can't really understand the defensiveness I sense from both of you [Forster and Walsh] about changing our system. One of the things causing that defensiveness is surely the fact that you have to go to court to prove clinical negligence before you can get compensation and that makes doctors, nurses and midwives very nervous.
'£2.2bn was paid by the NHS last year – there is a huge industry of clinical negligence lawyers and getting on for half that amount was legal fees. Is there self-interest in the legal profession making you want to resist change?'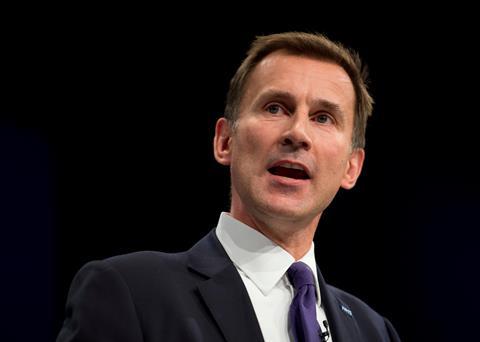 The committee had earlier heard from health leaders in Japan, New Zealand and Sweden who reported they had a lower compensation bill as a proportion of their healthcare bill, as well as much better safety rates than the UK.
Forster, representing the Association of Personal Injury Lawyers, said the administrative costs of running such a scheme would exceed those being spent currently, with the eligibility criteria for receiving compensation also being widened.
'Either that is going to cause an astronomical costs that would not be sustainable for the system, or we would have to look at tariffs or tokenistic types of damages which would not be responsive to the needs of injured patients,' said Forster.
Walsh, chief executive of the charity Action against Medical Accidents (AvMA), said the current system is important for upholding access to justice for people who have suffered as a result of negligence.
He said: 'Only a small proportion of people who come to us for support – less than 10% - actually end up going anywhere near a lawyer. Those who do need a lawyer really do need a specialist who has been accredited to help navigate the system. There is much more potential to exploit for improving the current system before we start changing the law of tort in this country.'
Hunt and his committee have already urged the government to end the adversarial element, and it is understood that ministers continue to consider whether to bring legislation.