A senior partner who was convinced he had won a lottery has been struck off for misusing client funds to access his 'win'.
Hugh Peter Lansdell misappropriated almost £1.5m from his own firm as well as thousands from various trusts, charities and clients.
Landsell, 70 this year, had been a solicitor since 1975 and a partner with Norfolk firm Hansells for more than 27 years. He also acted as an intermediary between an investment management company and various trusts benefiting individuals and charities.
Around Easter 2015, Lansdell received a letter, purportedly from lottery promoters, advising him that he had won £825,000. When he followed up the letter, he was told there had been an error and that he had actually won £1.825m. The supposed win was bogus; Lansdell was in fact in touch with fraudsters seeking fees to secure the release of his 'winnings'.
Between August 2015 and July 2017, Lansdell made 59 payments valued between £1,500 and £168,500 from the Hansells client account, including one ledger relating to the matter of a deceased client.
Apart from one payment to repay a private loan from a friend, all other payments from the client account were directly used to fund his purported lottery win fees.
He also instructed the investment management company to sell assets from a portfolio of a charity to the value of £235,000.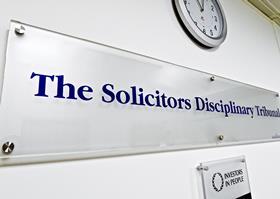 Hansells became suspicious about the way Lansdell was dealing with client money when a solicitor in one of its regional branches reported concerns about an investment he had made. Throughout the subsequent three-month investigation he gave false explanations for the various payments, before admitting he was involved in a lottery scam in August 2017.
He accepted the SRA's allegations of misappropriating client funds and dishonesty, making an agreed outcome with the regulator to present before the Solicitors Disciplinary Tribunal.
In his mitigation, not agreed by the SRA, he said the misconduct was committed as a consequence of a deception perpetrated by criminals. He genuinely believed he had won a substantial prize and his intention was always to replace the sums misappropriated. He also stated he had been suffering from a serious mental illness at the time.
The tribunal agreed to his strike-off and ordered that he pay £27,338 in costs.