Revised sentencing guidelines for drug offences will make judges aware that black, Asian and minority ethnic people get tougher sentences for certain drug offences than white people.
Unveiling updated guidelines today for offences under the Misuse of Drugs Act (MDA) 1971, the Sentencing Council said it wanted to address sentencing disparities associated with sex and ethnicity that were found in research it commissioned following Labour MP David Lammy's landmark race review.
The council's research showed that the odds of a black offender receiving an immediate custodial sentence were 1.4 times those of a white offender. Asian offenders received custodial sentences that were on average 4% longer than the sentences imposed for white offenders.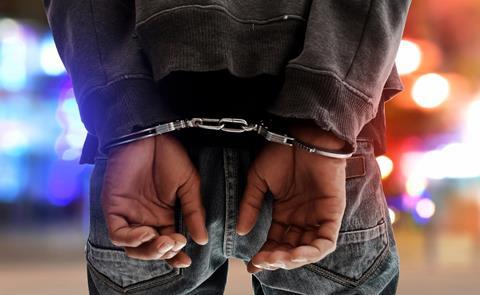 For certain offences where there is sufficient evidence of a disparity, the guidelines will state: 'Sentencers should be aware that there is evidence of a disparity in sentence outcomes for this offence which indicates that a higher proportion of Black, Asian and other ethnicity offenders receive an immediate custodial sentence than white offenders.'
The statement will include a link to overarching principles guidelines, which state that a range of evidence suggests people from BAME communities 'may be more likely to experience stigma attached to being labelled as having a mental health concern… may be more likely to enter the mental health services via the courts or the police rather than primary care and are more likely to be treated under a section of the Mental Health Act'.
The new guidelines, which come into force in April, also introduce aggravating factors that could see sentences increased for offenders who use the home of a vulnerable person (so-called 'cuckooing'), exploit children or run county lines. New and more powerful drugs, including various kinds of 'spice' and synthetic opioids, are also covered.
Her Honour Judge Rebecca Crane, a member of the Sentencing Council, said: 'These new sentencing guidelines provide a clear sentencing framework for the courts. They cover all the main offences and provide an approach to sentencing offending involving any type of drug. They will ensure that victims, witnesses and the public will have clear information on how drug offences are sentenced.'