A radical rethink of the way litigation is conducted could help foster a more diverse judiciary, according to the chancellor of the High Court.
Sir Geoffrey Vos said new technology should ensure lawyers can work at times which suit their lifestyle, and so end the culture of having to be available all hours. This is turn would create a pipeline of new judges able to fulfil family commitments while also litigating at the highest level.
'They would be potentially less dependent on the social environment of the courtroom, which might make it easier for the talented less-privileged entrant to the legal profession to get to the top,' Vos told the Chancery Bar Association's annual conference last week.
'I can imagine a system where, with much of the preparation taking place asynchronously, lawyers can log on and work at times of day that suit them; and where the judge would make orders online, and the lawyers and parties would fulfil their obligations to the same, perhaps shorter, strict deadlines, but outside the confines of a formal hearing.'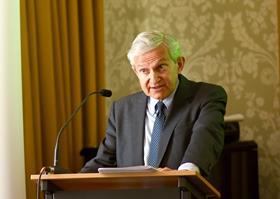 Vos said the 'inadequately diverse' pool of solicitors and barristers from which judges are selected was merely a 'partial explanation' of the wider problem. It had also been assumed for too long that equal numbers of men and women entering the legal profession would work their way through the system.
Instead, Vos said, the way business and property litigation – and indeed litigation more generally – is conducted has much to answer for.
He said that to demonstrate their prowess lawyers need to work 'absurdly long hours', leaving inadequate time to dedicate to families and other commitments. 'We are missing out on a whole cohort of talented women, and some men too, with caring responsibilities, or who cannot or do not wish to devote all their time to their work,' said Vos.
The answer, he suggested, may lie in the use of new technology for resolving court-based business and property claims – not through the increased use of telephone, video or online hearings, but through a 'complete rethink' in the way disputes are resolved.
'There are many possible ideas: for example, greater use of staged dispute resolution, greater online interaction between the judge and the lawyers or the parties; hearings that are asynchronous, rather than synchronous; fewer formal hearings requiring everyone to be in one room at one time; and cutting down the times for responses in an era when everyone checks their mobile phones dozens of times a day.'
He was clear this would not mean the abolition of traditional hearings, but they would be necessary less often, in cases where an oral hearing 'adds nothing' to the written materials submitted.