When I arrived at the suburban office where I was to be articled, the corridor walls had a covering of white-coated anaglypta. On the right, looking out on to the front garden and main road, you could find the jovial Cyril, book-keeper, outdoor clerk, part-time gardener, chauffeur for Simpson, and cat retriever for elderly lady clients. He claimed he had lost his teeth 'French-kissing', whatever that was, during the war. Among his many talents he could break string with one hand. One day when I was having trouble with trust accounts, I asked him which side of the books was the credit side. I have never been sure whether he was joking when he replied: 'The credit side is always the side nearer the window.'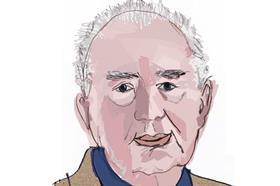 Not all staff had their own room or even desk. One man who did the debt collecting had to work on the window sill in the telephone room. This was partly because Simpson was a bully, and it was in reprisal for the man's refusal to have his hair cut. It was a perfectly reasonable refusal. The man was the singer Alfred Hallett who, in between appearances, worked for Simpson. I looked him up online the other day and I see in 1959 he appeared in Handel's Rodelinda with Joan Sutherland and Janet Baker, and in Carmen with Regina Resnik. He also sang a good deal of choral music.
Each summer, however, he toured with the actor-manager John Hansen, who specialised in reviving old and then much-loved musicals – Rose Marie, Desert Song and, specifically, Lilac Time with Hallett as Schubert. Hallett reasoned that Schubert did not have a short back and sides and he hated wearing a wig. Simpson did not see it that way. He considered that Hallett, at best, was merely being inconsiderate and, when in May he disappeared to Bournemouth or Llandudno or Scarborough, that he was being deliberately disruptive.
Eventually, he was replaced by a young woman with bitten nails who joined on the condition that she had her own desk. She did not last long either. I eventually lost touch with Alfred, and years later heard he had died in the Punjab.
James Morton is a writer and former criminal defence solicitor