Corporate away-days are known to get a little competitive, but on a recent visit to a poppy factory, Irwin Mitchell had its own secret weapon.
Sheffield-based personal injury project manager Lydia Nobrega and five colleagues spent the day at the Poppy Factory in Richmond, Surrey earlier this month, each tasked with making up some of the millions of poppies that are distributed around the UK for Armistice Day.
But Nobrega is no ordinary volunteer. Indeed, she still holds the record for the most productive poppy maker in the factory's history – a record going back to 2015 when she produced a staggering 1,500 flowers in three hours.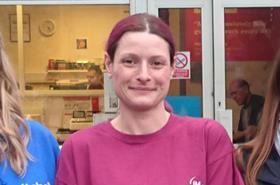 Having set the record with her previous employer, Nobrega was keen to encourage her new colleagues to join the production line. The Irwins team turned out an impressive 5,156 between them – Nobrega weighing in with 1,214 of them.
'I felt very honoured and privileged to work alongside some of our veterans and do my small part for the poppy campaign this year,' said Nobrega. 'It's a really great feeling to know you're doing something that will benefit these really deserving individuals.'
As for the toll of making so many poppies, Nobrega testified: 'Poppy Thumb is now an official thing. Those black buttons take it out of you after a while.'