Marketing is a powerful business tool. As solicitor Nick Freeman – 'Mr Loophole' – highlights, a short, striking description 'is a hugely effective' way to 'showcase a CV in one pin-sharp soundbite'.
Marketing has been an activity open to solicitors since 1986: lawyers should be pretty good at it by now. Shouldn't they?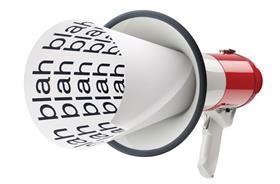 Here's Obiter's near-neighbour Mishcon de Reya, with a full-page ad in the Economist. 'Risk is good,' the ad simply declares. Is it? Obiter wonders which ideas didn't make the cut. 'You're on your own this time!' perhaps.
That's better, though, than a Canadian law firm's ad that, shudder, cannot be unseen. Stevens Virgin now uses the slogan: 'Fierce, focused litigators.' But time was when the firm ran this ad: 'When it comes to litigation, always go with a VIRGIN.' Oh dear.
Many firms opt for an earnest assertion of their virtues. 'Your case is our cause,' Slater and Gordon declares, with sympathetically tilted head. 'Results for our clients, success for our people,' is Weightmans' win-win line. And 'Specialist advice in a real world context,' is available at Ashfords.
A declaration of zippy modernity is popular. Listed firm Gateley plc plumps for: 'Smart, savvy and straight-talking business experts.' And Royds Withy King is home to 'Lawyers ahead of the curve.'
But Obiter senses the sector is entering a new, more cryptic phase. EY Law asks: 'Can a question start a ripple that will help the world work better?' Hmmm, 'if this is an answer,' as the old philosophy joke goes. Virtual firm Keystone Law is where you'll find, 'Law set free… Where passion drives performance'. A lovely image of a pair of nesting lawyers reintroduced to the wild.
Obiter's favourite of the new wave marketing attempts is from Memery Crystal, which opts for: 'What are you thinking?' What indeed.