A footnote in Stephen Bates' new book The Poisonous Solicitor, about the only solicitor hanged for murder, refers to the case, also in 1922, of Henry Jacoby. The execution of the 18-year-old pantry boy, convicted of the murder of Lady Alice White who found him burgling her hotel room, caused a much greater outcry than that of the solicitor.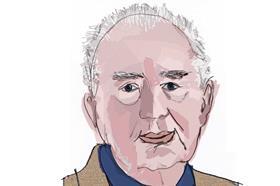 At the trial, Lucien Fior, who had been called for less than two years, appeared for Jacoby and had a hard time from Mr Justice McCardie. When Fior suggested his confession had been obtained by the third degree, McCardie asked acidly, 'And what is the first degree, Mr Fior?'
The jury wanted to bring in a verdict of manslaughter but after being effectively told that it could not, added a very strong recommendation for mercy. Quite clearly McCardie did not add his own recommendation.
The furore over Jacoby's execution was not because anyone thought the teenager was really innocent but because the home secretary had just sent the well-connected and expensively defended Ronald True to Broadmoor for the murder of a prostitute. Jacoby, the son of a prostitute, was denied a reprieve and public opinion was that there was one law for the rich and one for the poor.
Both Fior and his instructing solicitor Simon Burns, also recently admitted, did what they could to save Jacoby. Two jurors went to Burns' office and said that had they known Jacoby would hang they would not have returned a verdict of murder. Together Burns and Fior went to the Home Office and Burns made an attempt to see King George.
I don't think I met Simon Burns but I believe Fior was so scarred by the experience that he left the bar, establishing a highly successful boutique practice as a solicitor. I met him on occasions when we played duplicate bridge in the early days of the Law Society's bridge club. My partner and I were never in Fior's class, nor that of the other members, but they tolerated us. He was always kind and courteous to those who shouldn't have been at the same table.