'End of an era' is a phrase much used and often misused but it is surely the right way to describe the death, on 17 April, of Christopher Michael Fane Langdon. Christopher oozed tradition and history. He was from that mould of solicitor who viewed public and professional service as more important than CPD points. This meant he popped up on various boards and committees, mainly focused on helping those less fortunate than him.
Christopher was born in 1945 the son of Michael Langdon, also a solicitor. In fact, it was no surprise that Christopher took up the law, as generations of his family had done. His was very much the traditional family firm and, like Christopher, it was embedded in the local community of Hastings.
Young Coles and Langdon traced its roots back to 1828. Although two generations of Langdon, each named Augustus, had been called to the bar in the nineteenth century, it was not until 1897 that the first member of the family began to practise in Hastings. William Herbert Langdon, Christopher's great uncle, was made partner in 1911 at which time the firm adopted the name Young, Coles and Langdon. Prior to his death in 1948 his nephew, Christopher's father, Michael Langdon, had joined the firm and became partner in 1947, with Christopher then joining in 1972.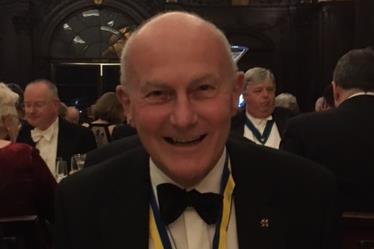 Sadly, by 2017 the three then current partners in the firm had elected to wind up their partnership, thereby ending almost 200 years of loyal service to the community.
Christopher's love of tradition, of the law and of the written word were displayed in his book about the firm – 'Square Toes and Formal' – published in 2003 and updated in a second edition in 2006. Publishing obviously ran in the family, as in his book Christopher recounts the tale of his great, great grandfather, Augustus, who edited a publication about natural history in the Hastings area. In Christopher's words 'to a notably boring book he contributed the section cataloguing the local molluscs' – a perfect example of his dry sense of humour.
In practice, Christopher mixed his love of tradition – the militaria displayed around his office – with a passion for technology, though tradition still won in the end, as he insisted on using Word Perfect, believing it to be far superior to its Microsoft rival. If he took you on as a client, you would get no-nonsense advice on a wide range of topics, no problem being too big or too small
For 25 years, Christopher was secretary of the Hastings and District Law Society - again, following tradition. In his book he records the fact that up to the point at which he stood down as president, in 1999/2000, there had only been four meetings of the Society's committee at which a member of the Langdon family had not been present.
For one so busy running his practice and serving various local charities, it was surprising to find that Christopher also found time to be a Freeman of the City of London, a member of the Worshipful Company of Scriveners and President of the Council of Notaries – there are many more examples and anyone who worked with Christopher will know that when he signed up for something, he gave 100 per cent. He was not one to sit on the back benches nodding off.
If the illness that took him allowed him time to reflect, he will surely have considered that he did all he set out to do with remarkable effect and that he made a difference not only to the lives of his family, his work colleagues and his clients but to the countless others in the local community who may not know his name but who benefitted from his endeavours on their behalf.
Geoff Longmire is a solicitor in East Sussex