The home-buying process in England 'is not fit for purpose', according to the Ministry of Housing, Communities & Local Government. A few weeks ago it set out its likely direction of travel, following a consultation opened last October.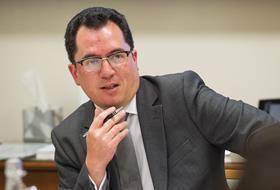 In Improving the home-buying and selling process, ministers place a relatively heavy reliance on the effectiveness of two proposed publications – How to buy and How to sell. Nonetheless, broad changes to the process are also now in train.
Regulation of estate agents
Regulation of estate agents is currently light-touch, relying on a small national enforcement team – the National Trading Standards Estate Agency Team. It has the power to issue warnings and banning orders to rogue agents, and to approve customer redress schemes.
The department will now begin work with the NTS team to 'strengthen enforcement of the existing regulatory framework for estate agents with a focus on ensuring all agents comply with consumer protection regulations'.
Estate agents are also set to become professionals. There is currently no minimum professional standard requirement to operate as an estate agent – ministers intend to change that. The department will open a consultation to that end.
Referral fees
Fees paid by conveyancers or mortgage brokers to estate agents in exchange for recommending business to them receives special attention.
Here, ministers rely on creating 'more transparency' on fees, which they argue will mean customers/clients 'make an informed choice and feel they are being treated fairly'.
There is also a commitment to 'look
more closely at the case for banning
referral fees, particularly for new-build properties and instances when buyers are being referred'. However, ministers have stopped short of setting out plans for a consultation.
'Choosing a conveyancer'
'We want consumers to be able to make a more informed choice of conveyancer which considers service levels, not just price,' is not in itself a controversial statement. The most notable proposal here, though, is to 'work with industry and consumer groups to develop solutions using more transparent data, standard metrics, kite marks and quality standards'.
On 'moving day' the department will 'work with removal firms, conveyancers and lenders to see how the process around the release of funds can be improved'.
Time from offer to completion
The time from offer to completion is, on average, eight to 12 weeks. Here, ministers place their faith in technology: 'We want to work with industry and other public sector bodies to encourage the development of digital signatures, improve the ID verification process and promote the adoption of e-conveyancing.' The immediate upshot is the establishment of a 'technology working group' that will include HM Land Registry.
Sellers should have their information 'sale-ready', but here the department relies on nothing more that its proposed How to sell guide.
Leasehold transactions take on average three weeks longer than freehold sales. There are two commitments here:
'Set fixed time frames and maximum fees for the provision of leasehold information, potentially with a statutory underpinning, and encourage managing agents to make this information available electronically'; and
'Work with industry to standardise the leasehold information form.'
Cutting failed transactions
The government is 'particularly interested' in the introduction of reservation agreements ('contracts which increase commitment between buyers and sellers earlier in the process'). Ministers cite evidence from another department, the Department for Business, Energy & Industrial Strategy, which indicated that buyers and sellers would be willing to use reservation agreements. They add: 'Making use of these agreements a more common part of the process will reduce the rate of failed transactions and the fear of gazumping.'
There are three 'next steps' set out to promote the use of reservation agreements:
Work with industry to develop a short standardised reservation agreement which can be used in any transaction;
Commission behavioural insight research to consider ways to encourage consumers to adopt these agreements; and
Pilot agreements with the aim of making them a standard part of the process.
Law Society view
The Law Society Conveyancing and Land Law Committee notes that the conveyancing process can and should be made easier but adds 'thoroughness of the current process is one of its strengths'. This accords with the position taken by the ministry in its consultation and response.
On one key point, there is a note of caution in last December's Law Society response to the consultation: 'Broadly the same conveyancing system is used for commercial property and the same protections and safeguards are required. Proposing changes that might lead to two separate systems would need to be given very careful consideration.'
On proposals related to estate agents, ministers seem convinced by the Law Society argument on 'the need for effective and enforced regulation of estate agents and others, where the information they supply, and the work they do, is to be relied on'. There was also accord on the risks of dual representation, where a solicitor could be permitted to represent buyer and seller to speed up the conveyancing process. This was mooted by the government in October 2017, but is now not supported by it.
We still await a timescale of potential reforms.
The National Property Law Conference 2018 will take place on Wednesday 10 October at the Law Society in London. See more details.