A litigant in person who concealed his identity from judges for two years has had his claim thrown out of the High Court - after allegedly wasting the time of 10 judicial office-holders.
Dismissing as totally without merit an application in ABC v Google LLC, Mr Justice Pushpinder Saini said the application amounted to 'a back door attempt to evade an earlier order stating ABC was to identify himself both to the High Court and to Google'.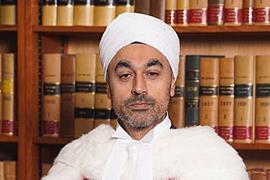 The litigant had been attempting to sue Google over the publication of a news report about a past conviction on a Google-owned website. In August last year, Mr Justice Nicklin struck out the original claim, remarking: 'This is the first case I've encountered where I've not known the identity of a litigant I'm speaking to.'

Despite this setback, the litigant filed an application which was listed before Saini J. In judgment last week, Saini J wrote of ABC: 'He has adopted an approach which means that, to date, the claim has not progressed at all. Instead, through unwise and misconceived applications, the claimant has wasted substantial amounts of court time (involving over, I understand, 10 judges or masters).'

Saini J disposed of ABC's application by certifying it 'as totally without merit for the purposes of CPR 23.12' and pondered making a civil restraint order against the litigant. However he observed that 'the lack of knowledge of the claimant's actual identity may pose challenges as to how such an order can be made and operate'.
He added that following receipt of the draft judgment, ABC asked for and was granted time to make submissions. 'He failed to take that opportunity, and did not make any substantive submissions within the extended period. He then sought a yet further extension, which I was not willing to grant.'