A legal challenge by the Law Society to cuts in fees to criminal defence lawyers for complex cases has got under way, Chancery Lane announced this morning. In a pre-action protocol letter for judicial review sent to lord chancellor David Lidington, the Society describes changes to the litigators graduated fee scheme as unlawful.
The changes were announced on 24 October - despite clear warnings from firms and organisations, including the Society. They will cap the fee claimable for paper-heavy Crown court cases to 6,000 pages of prosecution evidence, down from 10,000 at present.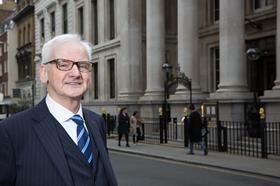 'We believe this will have a dramatic effect on criminal legal aid solicitors and barristers who are already barely scraping a living as they try to ensure a fundamental part of our justice system is upheld - that anyone, regardless of means, is entitled to a proper defence when accused of a crime,' Law Society president Joe Egan said.
According to the pre-action letter the changes:
Would interfere disproportionately with the constitutional right of access to justice and
Would unlawfully frustrate or are inconsistent with the statutory purpose of the litigators graduated fee scheme
Were announced after insufficient inquiries and
Follow a decision that was irrational and based on material errors of fact.
Unless the reforms are withdrawn, the Society will seek an order in the Administrative Court to quash them, the letter states.
'After decades of legal aid cuts by successive governments we have no choice but to act against an arbitrary cut that will do little if anything to drive down the legal aid bill - but could have a very detrimental impact on justice,' Egan said.