Lawyers who move in-house in the traditional expectation of shorter hours than in private practice could be in for a shock, the president of the Law Society of England and Wales told the global legal profession's largest international gathering.
Clifford Chance partner Simon Davis said that anyone hoping for a 'more managed life' by going in-house is mistaken. 'My experience is that they quickly find that's not true - you're still working all night and all day,' he said at a session on the changing role of the general counsel.
However Davis said that a gentler working environment is well down the list of reasons for going in-house. Number one, he said, was that lawyers want to be involved in cases and deals from the beginning to an end. Another reason is that they enjoy contributing to the overall business of their employer.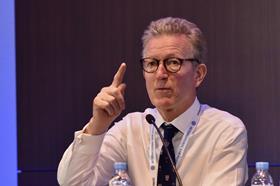 And, while in-house is the fastest-growing category of Law Society membership, accounting for nearly 23% of the total, he stressed that the traffic is not all one way. 'We're also seeing GCs, or at least people on their way to becoming GCs, leaving in-house and moving back to private practice.'
Edith Shih, Hong Kong GC at international conglomerate CK Hutchison, agreed with his assessment. 'In house is not less hectic,' she said. 'We are 24/7 - 25/7 sometimes!' She noted that moving in-house involved taking responsibility for a transaction from beginning to end. 'But you have to live with your decisions. You have to turn every stone and make sure you are happy with your decisions, as you be accountable to the company for years to come.'
Meanwhile, Charles Jacobs of magic circle firm Linklaters noted a change in the destination of lawyers going in-house. Rather than typically jumping ship for an investment bank, up-and-coming lawyers are looking to go to startups, he said. 'Youngsters are taking more risks.'