With its extensive natural resources and wealth, Qatar has become a magnet for international law firms. But can the tiny Arab state deliver a pipeline of profitable business in the long-term?
Despite its tiny size – smaller than Yorkshire – Qatar has the world's highest GDP per capita ($106,000 in 2012). It has a fast-growing economy, forecast to have grown by 6.5% in 2013. Although Qatar's vast oil and gas reserves have been driving growth for decades, in 2008 the government embarked on ambitious reforms. These were set out in its Qatar National Vision 2030, which aims to diversify Qatar's economy, and create a world-class infrastructure of new roads, railways, airports, bridges, hospitals, libraries and museums.
The emirate's winning bid in 2010 to host the 2022 FIFA World Cup brought forward by some eight years the deadline for completing some of Qatar's biggest construction projects, with the country investing up to $220bn to ready itself for the football tournament. One example is the 85-station Doha Metro, part of the $35bn Qatar Integrated Rail Programme, the first phase of which is expected to be completed in 2019.
That is why foreign law firms have been flocking to the Qatari market – most recently Addleshaw Goddard and Charles Russell. Simon Green, head of Charles Russell's Doha office, which opened in September, says that although 2022 may seem a long way off, some of the planned projects have long lead times. 'We have come into the market now because over the next six months or so the requests for proposals (RFPs) for these projects are going to the legal advisers. We would like to have a degree of experience behind us operating in Qatar on the ground before we receive those RFPs, and hopefully we will win the work.' After a relatively quiet two years owing to the financial crisis, 'things are really ramping up now', Green adds. 'I have been here for three months, and I certainly feel there is a buzz of activity.'
Part of Qatar's drive to diversify its hydrocarbon-reliant economy is the Qatar Financial Centre (QFC), which the government launched in March 2005 to attract international financial services and multinational corporations. With the QFC, Qatar aims to create a global business hub for asset management, reinsurance and captive insurance.
The QFC also opened up Qatar to foreign law firms. Before 2005 the general rule was that foreign firms could only establish in Qatar by forming a local partnership. There were three exceptions: Simmons & Simmons, Patton Boggs and UGGC & Associés, firms with headquarters in the UK, US and France respectively, were granted licences to operate as standalone firms by special resolution of the Ministry of Justice. But through the QFC foreign firms can now set up 100%-owned offices and all profits can be remitted outside Qatar.
The QFC's legal infrastructure is modelled closely on English common law and is separate from Qatari law, which is based on a civil code and Islamic law. It also has a separate jurisdiction (see box) and regulatory authority – the QFC Regulatory Authority.
Robert Musgrove, CEO of the Qatar International Court and Dispute Resolution Centre, says the QFC was the brainchild of Sheikh Hamad bin Khalifa Al Thani, who in 2013 abdicated as emir in favour of his son, Sheikh Tamim bin Khalifa Al Thani. 'In 2004 the emir of Qatar was thinking about how to diversify his capital wealth in gas and oil, and his eyes turned to Dubai, which came first out of the blocks in the region in terms of financial development. The emir decided he would like his own financial centre, so he created the QFC.'
Qatar also drew inspiration from Britain and its strong rule of law. 'The emir recognised that, if you had an independent, world-leading legal system, you would be better at protecting and promoting the rights of international companies investing in Qatar, and so he turned to the UK for [the QFC's] legal and regulatory model,' Musgrove says. Lord Woolf, the former lord chief justice of England and Wales, was the first president of the QFC Civil and Commercial Court.
But, unlike the Dubai International Financial Centre, the QFC is not an offshore zone. QFC-registered companies are subject to 10% corporation tax on all locally sourced profits.
Firms seeking a QFC licence need to establish their offices in premises recognised as approved QFC locations (of which there are more than 40). A QFC-registered foreign law firm is entitled to provide 'legal advice, opinions and counsel in any matters of law, including Qatari laws, providing that it has the requisite expertise, and competent and qualified lawyers, to provide such opinions, counsel or legal advice', says David Dhanoo, chief legal officer and board secretary of the Qatar Financial Centre Authority, the licensing arm of the QFC. But there are restrictions. For example, QFC-licensed international law firms do not have rights of audience before a Qatari court and must retain a qualified Qatari lawyer, Dhanoo says. This is reserved to Qatari nationals.
You cannot come in thinking this market is paved with gold. You have got to build up strong relationships and sometimes these things take time — Simon Green, Charles Russell
But there is no such restriction on foreign lawyers appearing before the International Court of the QFC, where both local and QFC-registered law firms may represent clients, as may any law firm from a recognised regulated jurisdiction, Musgrove notes.
Roger Phillips, legal director at Pinsent Masons' Doha office, highlights the peculiarity of two different legal systems co-existing. 'Rather bizarrely, you have got common law and civil code law in the same country,' he says. With Qatari state law constantly evolving (the country is reforming its commercial legislation, including arbitration, to bring it into line with international standards), Phillips stresses the importance for international law firms of including Arabic-speaking, civil-code lawyers in their Qatari teams.
Pinsent Masons' Doha office employs 14 fee-earners, including four Arabic-speaking, civil-code lawyers – from Lebanon, Syria and Iran – who have worked in Qatar for a long time. 'They understand how the civil code works, and can work their way through Qatari law,' Phillips says. But Phillips, formerly head of legal at the QFCA, warns against the risk of professional indemnity claims: 'International law firms should not be advising on areas where they don't have the necessary competency.' For this reason, Pinsent Masons regularly takes on the services of local law firms Sultan Al-Abdulla & Partners and Al-Ansari & Associates (for litigation work too).
Other international law firms have hired Qatari-qualified lawyers who are also Qatari nationals. Eversheds currently employs 11 fee-earners in its Doha office and one consultant – Sami Abu Shaikha, a Qatari advocate. Similarly, Latham & Watkins has a Doha staff of seven fee-earners, including Qatari-qualified Mohammed Al-Khater.
Attracting talent
But international law firms with Qataris on their payrolls are the exception. As Phillips notes: 'There aren't many Qatari lawyers. There isn't a huge market. The Qatari Lawyers Association only counts about 90 members.'
With the highest per capita income in the world, many Qataris do not need to work, or if they do they prefer to work for the government. Qatar has a fast-growing population of 1.8 million, but only about 270,000 are Qatari nationals. The overwhelming majority, 84%, of the national workforce of only about 80,000 is employed in the public sector, which offers higher salaries (recently increased), perks and prestige, and is generally considered less demanding, according to a recently published Qatar National Bank report (Qatar Economic Insight 2013).
Hussein Damirji, head of Addleshaw Goddard's Doha office, who before joining the UK firm was a Qatar-based partner for six years at Patton Boggs, says that it is difficult for international law firms to compete with the public sector when it comes to recruiting good, bilingual talent. This applies to the whole of the Middle East, not just Qatar. Damirji adds: 'I used to have Qatari interns, but they did not need to work. You really need people who are determined to learn and do better for themselves, and [commit] for the long term. But it is hard. How do you motivate them?'
Addleshaw Goddard is to launch an internship scheme in Qatar as part of an agreement with Qatar University's College of Law. Other international law firms are committed to developing local talent. Charles Russell currently employs three fee-earners in its Doha office, but over the next six to 12 months the firm will be looking to expand its existing team of senior lawyers with junior lawyers or trainees. Already, two Bahrain nationals have qualified as England and Wales solicitors through the firm's Manama office. 'We would like to replicate that here at some point, and certainly show that commitment to Qatar which we all think is extremely important,' Green says.
But it is not just home-grown talent that is hard to find, owing to an economy and culture which is markedly different to the United Arab Emirates. One lawyer who prefers not to be named suggests that bureaucracy makes it difficult to do business in Qatar, and adds: 'Attracting good people to come and work here is sometimes difficult. Dubai and Abu Dhabi have a lot more developed infrastructure, and are much more liberal. Qatar is still a very traditional society,' he says.
David Salt, a partner in the Doha office of Clyde & Co, one of the first international law firms to receive a QFC licence in 2006, acknowledges this: 'Qatar is not like London in the sun. It doesn't have all the blandishments of a Western-style society, but it is very peaceful and quite friendly and [offers] much more of an expat life. There is a lot more socialising in each other's houses than there would be in Dubai, which is like a sort of mini-London,' he says.
Lofty ambitions for justice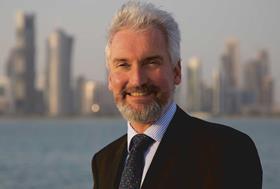 The Qatar International Court, established by Sheikh Hamad bin Khalifa Al Thani in 2009, has mandatory jurisdiction for the resolution of any disputes relating to QFC-registered companies. Flanking the common law Qatar International Court is a regulatory tribunal, which acts as an appeal body from decisions of QFC institutions.
Both the Qatar International Court and the tribunal are Courts of the State of Qatar but, as Robert Musgrove (pictured), CEO of the Qatar International Court and Dispute Resolution Centre (QICDRC), explains: 'We enforce internally, nothing from our courts will bleed into the local system. It's very important that any appeals terminate within our own appeal circuit.' All enforcement is also done internally.
As well as access to an international panel of renowned judges, led by Qatar International Court's president Lord Phillips of Worth Matravers (former president of the UK's Supreme Court), the QICDRC offers arbitration under international rules and procedures, and mediation provided by CEDR. The Qatar International Court, formerly known as the QFC Civil and Commercial Court, officially opened its doors in December 2010, and has only dealt with 20 cases. In addition, over the past 18 months, the QICDRC hosted 10 high-value arbitration disputes related to infrastructure projects.
But Qatar has lofty ambitions for the QICDRC. Amendments to QFC legislation will enable the QICDRC to expand its role and jurisdiction. To capitalise on Qatar's construction drive in the next nine years and beyond, QICDRC is developing a fast-track adjudication scheme to deal with construction disputes, using specialist construction adjudicators or mediators. It is also working with Pinsent Masons on developing a similar product for resolving insurance disputes linked to infrastructure projects.
The QICDRC will also expand its arbitration role. It currently only offers ad hoc arbitration, but will soon provide institutional arbitration, that is, administering the arbitration process instead of just providing a venue for other institutions such as the London Court of International Arbitration or the International Chamber of Commerce. New legislation will also clarify that the Qatar International Court has an opt-in global jurisdiction under which parties from all corners of the world, and not just in Qatar, consent to the court hearing their disputes.
Musgrove says: 'Qatar is a country that is going at light speed in terms of its economic development. What started as a fairly confined project in terms of providing an international-quality court to be the captive jurisdiction for those companies that are registered at the QFC, there emerged broader thinking as Qatar's own ambitions broadened. So we are still the court for captive QFC work, but we are expanding our remit into dealing with all international commercial disputes.'
Competition
Attracting and retaining the right talent is obviously important in what is an increasingly crowded market. There are more than 30 foreign law firms in Qatar, including 29 that are QFC-licensed.
Andrew Macklin, a partner in the Doha office of Latham & Watkins, says: 'People sometimes forget that Qatar is a very small market. There is a limited pool of potential clients – all important clients – with significant funds to invest.' The US firm has been operating in Qatar since 1995 and received a QFC licence in 2008. 'We think we have been fortunate because we have a long history here and it takes a long time to build relationships of trust,' Macklin says. The firm's clients include Qatar Holding, Qatari Diar (the real estate investment company owned by the Qatar Investment Authority) and Qatar Petroleum. The US firm recently acted for the joint lead managers in the State of Qatar's $4bn sovereign sukuk (Islamic bonds). But Macklin concedes that: 'Everyone is feeling the fee pressure, and I think if they tell you otherwise it is not true. It is simply a reflection of the number of law firms that are in this market.'
Notwithstanding the long pipeline of big infrastructure projects, Andrew Wingfield, Middle East regional head of Simmons & Simmons, considers it relevant that more than 30 international law firms are now established in Qatar: 'It just seems all out of proportion. Certainly the market is very competitive because the new people in town obviously want to be very competitive on price.'
With public spending driving projects, law firms win most of their contracts through public sector tenders, which become very competitive. 'Many legal services are delivered through procurement, and if you have got 29-[plus] law firms, which are all actually reasonably good, what tends to come through is the lowest price,' Phillips says.
But to get access to these contracts you need to be on the ground. One international lawyer, who prefers not to be identified, says: 'We lost a bid because we did not have a Doha presence at the time.'
Those that recently took the plunge have already seen the benefits. Addleshaw Goddard has 'already seen a number of RFPs come through' since opening an office in July, Damirji says. 'Our clients in a number of sectors wanted us to have an office in Doha,' he adds. Among them is Qatar National Security Programme.
Having added Doha, which works closely with the Muscat and Dubai offices, Addleshaw Goddard now has a 'full service capability' in the region, with practice areas including Islamic financing, corporate and commercial law, and construction (contentious and non-contentious).
Salt says Clyde & Co is 'very busy', particularly in oil and gas, and the booming construction sectors. The firm's Doha office recently hired more lawyers to service growing business with clients including the QFC authority and Qatar Insurance. The firm is also working on one of Qatar's most ambitious development projects ahead of the World Cup – the $5bn Doha Bay bridge and underwater tunnel, now known as the Sharq Crossing, designed by Spanish architect Santiago Calatrava.
Simmons & Simmons recently recruited four partners in the Middle East and now has a team of 12 lawyers in Doha, including Arabic-speakers. Wingfield is sanguine about the firm's prospects. 'If you can differentiate yourself from the competition and meet the price expectations, then you can do relatively well,' he says.
The firm received a licence from the Ministry of Justice in May 2003 and, having been on the ground longer than most, has built strong links with large financial institutions and government bodies. Simmons & Simmons helped the Qatari state establish the QFC and has acted for Qatar National Bank – the largest Arabic bank in the world by assets. The firm is also acting for Sidra Medical Corporation, part of the Qatar Foundation (a non-profit organisation founded in 1995 by Sheikh Hamad bin Khalifa Al Thani), which has reportedly invested $7.9bn in the construction of the Sidra Medical and Research Center, a state-of-the-art paediatric hospital to be launched in Qatar by 2015.
But new entrants are confident too. 'You cannot come in thinking this market is paved with gold. You have got to build up strong relationships and sometimes these things take time,' says Green of Charles Russell. 'We have got very strong relationships with a number of entities here because of our successful practice in Bahrain. That's why we are confident that we can build a successful practice here too.'
The firm is capitalising on areas where it already has a strong reputation. 'Real estate development, construction and large-scale infrastructure projects is where we can see the biggest opportunity,' says Green, who is also head of real estate and construction for the Middle East region. Barwa Real Estate, Qatar's largest listed developer, is one of the firm's main Qatari clients. Charles Russell also plans to exploit its existing expertise in sports law and private wealth management to steal a march on rivals which do not offer these services. Charles Russell is acting for members of Qatar's Al Thani royal family in relation to their overseas property investments and tax-related matters.
Qatar had the world's highest proportion of millionaire households in 2012, according to a report by The Boston Consulting Group. Phillips says: 'The Middle East region as a whole is an area of extreme wealth and a lot of clients are looking for help with their family's establishments, and looking for good advice.' Qatar super-rich invest all over the world – not just in real estate, but also in art, sports ventures and blood stock, Phillips explains.
An office in Doha, therefore, is about much more than the domestic market. Phillips says: 'You have to think of Qatar as a regional play as well, not just as a local play.' Located in the centre of the Gulf, Qatar has 'very strong business connections' not just with other Middle East countries, including Iraq and Turkey, but also with north Africa and the far east, including China and Singapore.
Doha-based Christopher Jobson, chairman of Eversheds' Middle East business, adds: 'The strategic importance of Qatar to Eversheds reflects the strategic and geopolitical importance of Qatar both to the region and internationally. Qatar has a thriving and expanding economy which looks beyond the World Cup of 2022 and towards the 2030 Vision.' He adds: 'Qatar is also diversifying its asset and investment portfolio overseas. This creates enormous opportunities for a global law firm such as Eversheds.'
Eversheds, which has one of the largest footprints in the Middle East with seven offices, recently advised a government entity on 'strategic water and electricity projects' worth more than $500m, and has just finished advising on a $2bn sukuk.
Thus international law firms are not just interested in securing domestic work, but in capturing a share of outbound investment by Qatari companies, such as the Qatar Investment Authority (Qatar's sovereign wealth fund, which specialises in domestic and foreign investment), Qatar Petroleum, and the state-backed telecommunications company, which recently rebranded as Ooredoo.
Damirji says that intense competition will drive a number of international law firms out of Qatar, and that some are already scaling back, though there was no sign of downsizing among the firms the Gazette contacted.
For now at least, the opportunities outweigh the challenges. Compared with other, more mature Gulf state markets, such as Kuwait and the UAE, there is still a lot to play for in Qatar.
It is early days, with most international law firms only receiving their QFC licences in the past three to five years, Macklin says. A clearer picture should emerge over the next two years or so when a raft of World Cup-related RFPs are expected. He adds: 'Any sensible law firm is going to take a longer-term view in terms of trying to assess whether or not [the investment in Qatar] is worthwhile.'
Marialuisa Taddia is a freelance journalist