A body set up by the government and legal profession to promote the legal technology industry is to seek views from lawyers on clarifying the legal status of so-called crypto-assets and smart contracts, the chancellor of the High Court has revealed. Sir Geoffrey Vos said yesterday that the Jurisdiction Taskforce of the LawTech Delivery Panel will open a public consultation in the next few days.
It will publish a legal statement of the current position together with worked examples along with suggestions for legislation that may be considered or recommended, Sir Geoffrey said. The delivery panel was set up last year. Its members include Law Society president Christina Blacklaws, Lord Keen of Elie, justice minister and Professor Richard Susskind, technology adviser to the Lord Chief Justice.
Sir Geoffrey, known as the most technophile member of the senior judiciary, gave a preview of the legal issues surrounding assets constructed with encryption technologies such as blockchain in a speech in Liverpool yesterday. He noted that, despite a frenzy of claims about the technology, the legal uncertainty that pervades its use means that 'the starting line has not been crossed'.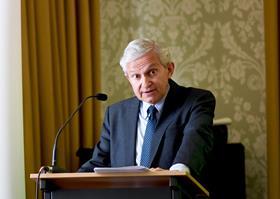 'Many of the most useful applications of the algorithms touted as "smart contracts" are not, in fact, end-to-end legal contracts at all. Instead, the most useful applications are as components of more conventional legal relationships,' he said.
English law is in a good position to provide the necessary legal infrastructure 'if, but only if, we try to keep any necessary reforms simple' he stressed. This effort should keep sharply in focus the advantages of the common law. 'It is dependable and predictable and able to build on clear principles so as to apply them to new commercial situations. We should, therefore, be looking to identify and, if necessary, remove any fundamental legal impediment to the use of smart contracts.
'We should try to avoid the creation of a new legal and regulatory regime that will discourage the use of new technologies rather than provide the foundation for them to flourish.'