The Law Society has formally called for the release of Iranian lawyer Nasrin Sotoudeh, who has been sentenced to 38 years in prison and 148 lashes after defending women protesting against Iran's headscarf laws.
In a joint letter with pressure group Lawyers for Lawyers, the Society reminds Iranian government and judicial leaders of the United Nations Basic Principles on the Role of Lawyers, which state that lawyers must be able to perform their professional functions without 'intimidation, hindrance, harassment or improper interference'.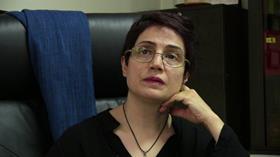 It respectfully urges the relevant authorities to: 'Immediately and unconditionally release Ms. Sotoudeh, withdraw all charges against her, vacate any convictions and sentences imposed on her, and put an end to all acts of harassment against her.'
It concludes 'We will continue to monitor the situation of Ms Sotoudeh, as well as the situation of other lawyers and human rights defenders in Iran.'
France's legal profession is also campaigning for Sotoudeh's release, with five bar associations granting her honourary membership. A poster reading 'Free Nasrin Sotoudeh' has been displayed across four storeys of the facade of the Conseil National des Barreaux headquarters in Paris.