Now You're In Trouble, Here Comes My Solicitor! Memoirs of a West Country Lawyer
Steven D. Coles
£9.99, Troubador
★★★★✩
Steven Coles was in practice as a solicitor in the West Country for 39 years, initially handling a mixture of civil and criminal litigation in local courts. He was with the same firm from 1986 until retirement last year and specialised latterly in commercial property law.
He says that as 'a solicitor you learn a lot about human nature and its eccentricities' and he often thought that the cases would make great short stories.
Now You're In Trouble – Coles' second book following his historical fantasy novel set in Dartmoor entitled The Moorlanders – was written during the early part of the pandemic.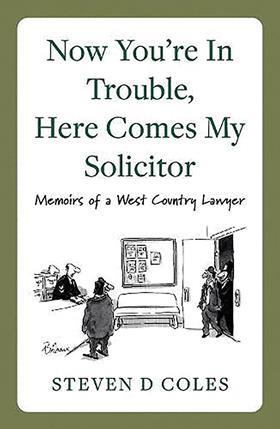 It is described as a 'fictional memoir', so light-hearted stories about his clients and colleagues are written as chapters in a novel. This unusual approach makes the book lively and vivid. Stories encompass a piglet rustler, alleged landlord harassment, problems with difficult neighbours, what not to do in a hot tub, dangerous dogs, and the petty thefts and disturbances which filled the courts years ago. It is mixture of dodgy, eccentric and the odd but likeable characters who fill our waiting rooms.
These were the days before the anti-money laundering rules, when it was acceptable, if not preferable, for clients to pay with wads of cash, and when high street lawyers could handle a wide number of cases. Prospective homeowners could self-certify their income and property valuations for mortgages. What could go wrong?
There were civil and criminal courts in most towns of any appreciable size, served by magistrates and professionals who knew their communities. Senior partners spent much of their time in pubs and clubs getting work that junior staff did. Solicitors enjoyed more time off work and were able to have a more relaxed life.
The book has some nice touches, including the phrase that we could all benefit from: all litigation is unpredictable, and the best cases only have a 60% chance of success while the worst cases a 40% chance.
An excellent, very entertaining and well-written memoir.
David Pickup is a partner at Pickup & Scott Solicitors, Aylesbury