A Drink at the Bar: A memoir of crime, justice and overcoming personal demons
Graham Boal QC

£20, Quiller Publishing
★★★★✩
'Know your judge' is good advice to any advocate at all levels of tribunal. One could add 'know your court' as well. Graham Boal QC has had a varied career at the bar, which started at the age of 13 with a visit to Eastbourne Magistrates Court to see the committal hearing of Dr John Bodkin Adams, the suspected serial killer and fraudster. This led the author to a lifetime career in court, which ended with his appointment at the Central Criminal Court.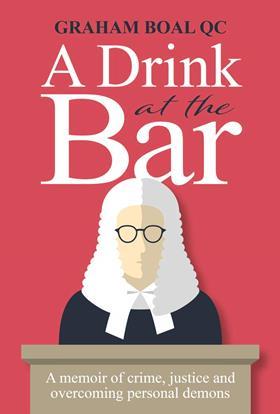 The criminal justice system has changed considerably over the years. The ancient courts of assizes and quarter sessions have been replaced by the Crown court. 'Verbals', when police officers claimed to be able to recall interviews word for word and wrote identical accounts without discussing them with colleagues, have gone to be replaced by the safeguards of recorded interviews under PACE.
In the early days, barristers had to understand that some days the judge wanted to get home early. This led to what must have been one of the shortest mitigation speeches in history. Boal describes how to please a grumpy judge, and the dangers of passing notes between advocates in a hearing. Life at the bar at the beginning of his career was challenging. (It is not much better now!) His first client was a 'dock brief'. Defendants were able to instruct counsel directly without a solicitor (perish the thought!) If the barrister was in court and gowned and bewigged. His performance so impressed the judge he was awarded legal aid. Boal must be one of the last barristers to remember dock briefs.
Boal's career had his low points. He struggled with depression and drinking, all of which he describes candidly. Career triumphs include when he was junior in the trial of Liberal Party leader Jeremy Thorpe and was led by another renowned advocate George Carman QC. Boal later led for the prosecution in the Birmingham Six appeal in 1991.
This book is marvellous fun and gloriously entertaining. It includes an account of a judge who turned over the wrong page in Archbold and directed a jury on the legal elements of buggery not burglary. There is also a reference to the 'condom submission' when the Court of Appeal has to decide if a conviction is safe.
Boal writes passionately about the importance of the bar, and its traditions of independence and the cab rank principle. There is a side swipe at members who describe themselves or advertise themselves as human rights barristers, as if there are any others. A thoroughly enjoyable read.
David Pickup is a partner at Pickup & Scott Solicitors, Aylesbury
Would you be interested in writing a book review for the Law Society Gazette? The Gazette receives books on a range of legal specialisms, as well as fiction, history and biography. If you are interested please write to Nicholas Goodman indicating your specialism