After the Act: Access to Family Justice after LASPO
Mavis Maclean, John Eekelaar
£50, Hart Publishing
★★★★✩
'She described standing in a hot corridor at court, trying to interview a man about his alleged attack on his wife, holding a laptop, pen and pad, as there were no interview rooms, and looking at the water machine but unable to drink a glass of water as the court had run out of plastic cups and couldn't afford to buy more.'
This familiar picture is painted by a barrister in a work that goes beyond simply highlighting the ways in which legal aid cuts have pushed the family justice system to the brink. It also looks at how the government, legal profession and third sector have responded to those cuts.
Innovative schemes have cropped up with increasing frequency since the Legal Aid, Sentencing and Punishment of Offenders Act jeopardised the ability of the family justice system to deliver, well, justice. Maclean and Eekelaar examine well-known areas such as the Personal Support Unit and McKenzie friends, as well as judicial initiatives, student pro bono programmes and legal advice clinics. These disparate institutions are propping up a system that is tottering on unsteady foundations.
Maclean and Eekelaar begin with a fascinating trawl through the post-war history of family legal aid, set up to deal with the crisis of servicemen returning to broken marriages. They go on to examine how the justice system has evolved post-LASPO. They consider the government push to make justice digital, noting that there is a commitment by the government to provide £5m worth of digital assistance in the civil courts per year. However, Maclean and Eekelaar observe that while the internet may make it easier for people to access information, this does not apply to those with limited computer literacy or no access to a high-speed broadband connection.
Maclean and Eekelaar's research into the legal profession and third sector is wide-ranging. This includes exploring the dedicated efforts of designated family judges, including one who personally prepared a pack which includes a 25-page typed booklet entitled: 'I'm representing myself: Guidance for people representing themselves in the X Family Court.'
This book pre-dates the government review of the act which was released in February this year. Given that many private law matters remain out of scope in respect of legal aid eligibility, Maclean and Eekelaar's observations are only likely to gain in importance as family lawyers continue to navigate the post-LASPO minefield.
Malvika Jaganmohan is a pupil at Coram Chambers, London
Just out
The Shield of Silence: How Power Perpetuates a Culture of Harassment and Bullying in the Workplace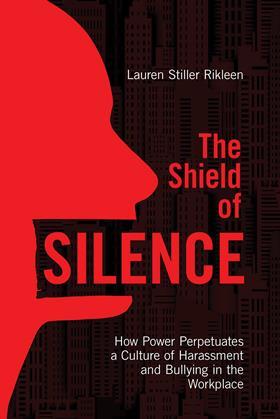 Lauren Stiller Rikleen
£19.96, American Bar Association
This book argues that sexual harassment and other negative behaviours will not be stopped unless the condition that drives victims and bystanders into silence – the overriding fear that reporting misconduct will result in retaliation – is eliminated. Combining fascinating research, extensive interviews and strategic recommendations for addressing workplace misconduct, it is a must-read for anyone interested in the ongoing conversation about what's acceptable, and what isn't, in the workplace. Accessible and universal in focus, The Shield of Silence provides a roadmap for creating the cultural change required to end misconduct – as well as the silence.