Summary Judgment: A Lawyer's Memoir
Donald Cameron Clark Jr.
£19.99, Sgian Dubh Press
★★★★★
In rural Alabama in 1984 Tommy Hamilton, a vulnerable 20-year-old of limited intellectual capacity and a traumatically violent upbringing, shot dead a prominent local citizen who was involved with his older sister. Represented by court-appointed counsel, he was convicted after 35 minutes of jury deliberation of murder with aggravating circumstances for which the sentence was life imprisonment without parole, or death by electrocution. Either way, death in prison. At the sentencing hearing, in under 30 minutes, the jury voted 10-2 for death and the court ordered accordingly.
With state and federal appeals exhausted, his only hope was a post-conviction review for which court-appointed counsel are not available.
The author (no relation), a Chicago commercial litigator, with a colleague and a Benedictine nun admitted as an attorney in Alabama, took on the case pro bono. With appeals it took 10 years.
This book is his memoir of the case. Memoir is misleading. In no way a self-indulgent reminiscence, it is many things: a gripping thriller with the awful fact of being true; a harrowing critique of the death penalty and the Alabama criminal justice system; an insight into the science of mental abnormalities; a masterclass in cross-examination; a discussion of the lawyer's role where the client has committed the acts but isn't necessarily guilty; and a masterly example of storytelling as a way to elucidate and educate. Underlying it is the tragic reality of human and institutional failings and, thankfully, strengths. I could not put it down.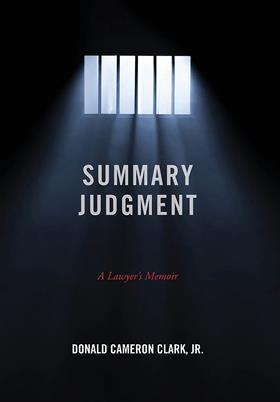 The twists and turns would stretch credulity in a novel. Without spoiling it: the initial trial judge (who would curiously otherwise have heard the review into his own handling of the trial) retiring shortly beforehand; new evidence including of perjury at the initial trial by a fellow inmate who was mysteriously released shortly afterwards; Tommy's unhelpful escape from custody mid-proceeding; and a series of shortcomings in the initial trial. At each stage the defence team were up against the relentless and experienced determination of the Alabama attorney general's death penalty division to see Tommy die.
Clark thankfully avoids getting into the detail of Alabama court procedure; legal authorities are mentioned (more good story-telling) where helpful to the narrative, or to explain the evolution and working of US death penalty law. He keeps the action moving and maintains the suspense. It is as much for non-lawyers as lawyers.
A minor irritation which more robust editing could have prevented is the lawyer's tendency to unnecessary precision, such as dates of birth and educational CVs of minor participants but, swept along by the story, one can pass over these.
The book is a powerful reminder of the importance to justice, regardless of country, of integrity, humanity and proportionality and the need for properly funded and competent defence lawyers. And it is immensely readable.
Charles Clark is a partner consultant at Linklaters, London