The Firearms Law Handbook eighth edition

Laura Saunsbury, Nick Doherty


£45, Wildy, Simmonds & Hill Publishing


★★★★✩
It is a mark of a good textbook that the first thing you do when you get your copy is flip immediately to the relevant chapter for clear and precise answers to a case you are, at that moment, dealing with.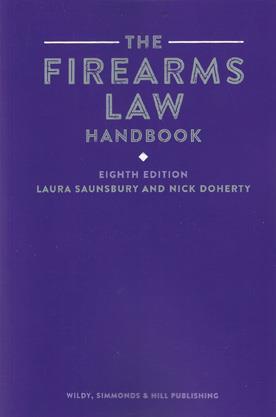 Saunsbury and Doherty come from a background where they have 'represented enough people who have inadvertently fallen foul' of the law on firearms to know how much difficulty can arise for the unwary. Firearms law is so technical, and so subject to continual evolution as new weapons are added to the legislative scheme, that even lawyers of many years' experience can be tripped up.
Much of the guidance is aimed at gun owners or retailers. As well as letting you know what certification requirements will allow you to 'keep that Luger your grandfather liberated in Berlin at the end of the War', (2.20) there are breakdowns of the steps necessary in obtaining a firearms or shotgun licence, notification requirements and procedures for appealing a revocation.
There are detailed guides to the storage requirements, and the practicalities of both putting protections in place and negotiating with officers: 'Most enquiry officers would revoke your certificate if they found you had that loaded shotgun propped up in a corner of the room in case you spotted a rabbit out of the window' (8.09).
Legal readers will also find useful breakdowns on major firearms offences and even some handy tips on potential avenues for cross-examination depending on an expert's provenance or any particular policy considerations they might bring to the case. The sections on young offenders in particular, though brief, provide an extremely useful overview.
Despite not being a criminal practitioner's guide specifically, this is nevertheless an indispensable companion to a complex and wide-ranging field of law.
Timothy Kiely is a barrister at Red Lion Chambers
Would you be interested in writing a book review for the Law Society Gazette? The Gazette receives books on a range of legal specialisms, as well as fiction, history and biography. If you are interested please write to Nicholas Goodman indicating your specialism