An alarming surge in Covid-19 cases in the US has left prisoners facing imminent execution without effective legal representation, according to the national representative body of lawyers. In a letter to the White House, American Bar Association president Patricia Lee Refo has asked President Trump to grant reprieves in three federal capital cases.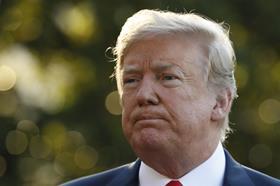 A moratorium on federal executions in the US ended this year. The American Bar Association says it does not take a position on the morality or legality of the death penalty itself, but is 'committed to ensuring that no death sentence is carried out without due process of law and zealous representation by counsel throughout every stage of the legal proceedings'.
The letter cites three cases which, the association says, give rise to concern.
Orlando Hall, scheduled to be executed on 19 November. 'Due to the pandemic, Hall's counsels have been unable to visit their client since his execution date was set, nor have they been able to investigate to prepare a clemency petition on his behalf,' the letter states.
Lisa Montgomery, scheduled to be executed on 8 December. The letter states that Montgomery is severely mentally ill and her competency to be executed must be regularly monitored. Both of Montgomery's attorneys have tested positive for Covid-19 and either is able to continue work on the case.
Brandon Bernard, scheduled to be executed on 10 December. According to the letter, Bernard, 18 years old at the time of his crime, 'has a compelling case for mercy that is nevertheless at risk of being overshadowed by the rush to execute all three prisoners in coming weeks amid the startling surge in Covid-19 cases'.