Business Development: A Practical Handbook for Lawyers, Second Edition
Consulting editor(s): Stephen Revell, Freshfields Bruckhaus Deringer LLP, on behalf of the International Bar Association
£140, Publisher Globe Law and Business
★★★✩✩
There is a passage in a biography by a leading barrister from the golden age of advocacy, before the second world war, when he describes the development of a professional person. At one point, the adviser is demanding work to do and then they move to being in demand for services. It is a transition that is not always smooth and does not happen for everyone. Those were the days before advertising of any description. The professional relied on word of mouth, reputation and being in a social circle where you are known.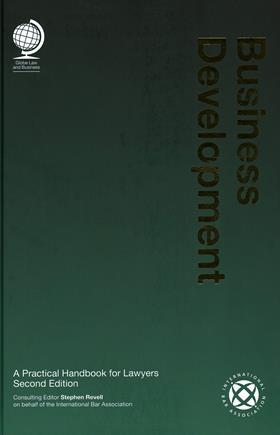 The premise of this book, and many others like it, is that that has all disappeared and the profession must sell itself and be more commercial. Certainly the world has changed and coronavirus has probably hastened change. The profession has learned to adapt. Clients increasingly are using technology and modern forms of social media to choose advisers and to probably decide whether to change them. Clients cannot go down the high street now and choose a legal office.
The book covers business development in the sense of getting and keeping clients. It discusses both the mental approaches and the skills required to do this successfully. It includes a 'day in the life of' a business developer and contributions from general counsel. It comes from a very reliable publisher on books for professionals.
The clear message is that we have to learn to keep clients happy and that you have to think like a client and understand them. Sometimes this book is repetitive but that is probably because the various contributors have the same message. What do clients want? Some ideas could be developed. Success is not only knowing the client but learning to say 'no'. There is reference to the 'golden ratio', where a firm should have 80% of its revenue from 20% of its clients.
The international perspectives in this book are interesting and unusual. The book is aimed at certain type of legal firm but much of the contents is of use to anyone. Certainly we sometimes need an impartial eye to look at a web site and social media. Any firm that has these needs to get someone to look at them who understands them. Most of the information I get to make choices on services of any kind comes from web sites and media but somehow I expect that clients do not choose their lawyer in that way.
David Pickup is a partner at Pickup & Scott Solicitors, Aylesbury
Would you be interested in writing a book review for the Law Society Gazette? The Gazette receives books on a range of legal specialisms, as well as fiction, history and biography. If you are interested please write to Nicholas Goodman indicating your specialism