One year ago, on International Women's Day 2020, women lawyers gathered in rooms around the world to have their portraits taken as part of the Next 100 Years campaign to create a visual image of the world's legal profession in 2020.
Back then we were only just beginning to understand the impact the pandemic was going to have on our lives. On that day, the rise and rise of women in the legal profession seemed certain. The portrait emerging was one of diversity and optimism. We were all feeling that in the future the legal profession would be more inclusive, that women would break through to lead and build on the legacy of the pioneers before them.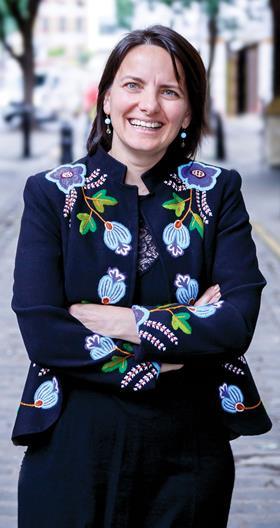 But as 2020 unfolded, it became apparent the pandemic would be both seismic and long lasting. A worrying picture emerged of how much of the progress made by women in the previous century could be reversed by this global shock.
In England this week, we are finally seeing our children go back to school. Parents across the country will be breathing a sigh of relief that they are no longer going to be required to balance working with childcare and home schooling.
That will be true of women in particular - lockdowns have had a disproportionate impact on their working lives. They are more likely than men to pick up the additional work within the home associated with educating and caring for their children or elderly and vulnerable relatives and are also more likely to work in positions that have been furloughed or made redundant. Some have been forced to give up their jobs altogether as a result of repeated school closures.
Our own research amongst circa. 900 women working in the profession early into the first lockdown found that over a third experienced a drop in income and for those with young children, the pressures of lockdown were particularly acute: 91% were taking on extra childcare and home-schooling responsibilities with 32% forced to reduce their working hours to do so. 49% said that they were taking on more childcare responsibilities than their partner and 73% were finding the situation hard to juggle.
Not only have women felt the direct impact of the pandemic, they have also seen initiatives designed to combat inequality put on the back burner. Last year saw a hiatus on compulsory gender pay gap reporting which unwittingly gave the green light to businesses to put the issue to the bottom of the pile. It is welcome news that reporting will not be put off for another year with firms that fail to meet the 4 April deadline given a six-month reprieve before any enforcement action is taken against them.
Whilst such actions have risked turning back the clock, one huge positive to take away from the past year, is that the profession has shown us how quickly it can adapt and change. Many firms resisted flexible working for years, yet now homeworking is the norm. Not only does this help women and working parents, it also shows how much change is possible and how perceived barriers can be swept away when the circumstances require it.
Interviewing some of the women photographed for International Women's Day last year as they reflected on the pandemic, I was struck by a real sense of hope and optimism. Whilst they recognise the impact on equality and progress they also expect the changes of the last year to bring the legal profession together to change working practices and to benefit wider society.
So let's look at what else we can do to improve equality, to reset the culture of our workplaces to focus on outputs rather than time spent in the office, to look at the career paths we offer to take into account shifting priorities throughout our lives.
Let's ensure our businesses are transparent, reporting on their gender pay gaps and working to close them, setting targets and having diversity front of mind.
As we celebrate International Women's Day, let's redouble our efforts and not lose sight of how much we still need to do to achieve equality.
Dana Denis-Smith, founder of The Next 100 Years
How has Covid-19 impacted you?
The Law Society would like to know how the pandemic has affected you. To take part in a short poll, launched on International Women's Day, click here.