I was a junior lawyer at a niche firm. The practice was long established holding rankings and a strong reputation.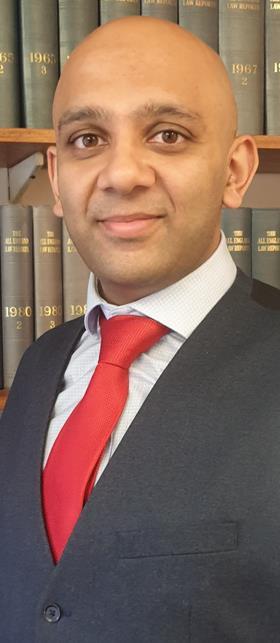 I was in the company of lawyers that oozed confidence and possessed a wealth of experience and I was determined to make a positive impression. I reminded myself, if I work hard, I could achieve my life-long dream of securing a training contract.
On my first day, I vividly remember the feeling of dread after being told I'd share an office with my supervisor.
I have a stammer, a neurological condition which affects my speech.
As a result of my speech impediment, I can become stuck with sounds and words. I would describe my stammer as an invisible disability and there is no cure.
As an inexperienced, nervous junior lawyer, having my desk positioned directly in my supervisor's eye line made me feel pressured and uncomfortable.
The fear of sounding different was enough to prevent me from speaking up about how I felt. My battle was that of achieving fluency and sounding normal and this could only be attained by avoiding speaking all together or substituting difficult words, and so I started living in the shadows.
It was emotionally, mentally and physically draining having to second guess every speaking situation and avoid coming across as disfluent and my mental health deteriorated as a result.
My position required me to be a strong and effective communicator and I was failing.
Being in the minority and at the bottom of the pecking order, I couldn't afford to show any signs of weakness. I felt like I couldn't tell anyone I was struggling and needed support.
Eventually I was told that my lack of input was disruptive and was issued a warning. Whilst my worst fear at the time, it gave me an opportunity to finally share what had been going on.
I hoped that reasonable adjustments could be made to help me, but these hopes were swiftly dashed. I was told that things must remain as they are.
Overwhelmed with disappointment, it was in this precise moment I realised that I don't belong at this firm and possibly the legal profession altogether.
My situation became untenable. The work I introduced to the business was sign posted and my fee earning capacity was significantly diminished to the extent I was left with little or nothing to do except administrative duties.
The turning point for me was during the pandemic. I went through a rough patch with my speech which led me to follow my fellow stammerers and take my mental health more seriously.
I was inspired and felt empowered to advocate and help raise awareness.
Now in a new firm, I disclosed my speech impediment to my employer and the heavy burden I'd carried around for years was instantly lifted.
My supervisor showed empathy and was extremely supportive, showing a keen interest in what adjustments could possibly be made to make my life easier. For the first time in my career, I felt reassured and valued.
My experience could've been different had my previous employer taken the time to understand me and my experience, but the business needs were put first and my personal and professional life suffered as a result.
The Law Society has encouraged firms to improve the way they recruit and retain disabled lawyers. Earlier this year, they released their reasonable adjustments guidance, which was created in association with Cardiff University Business School and the Law Society's Lawyers with Disabilities Division.
The guidance offers a comprehensive overview of reasonable adjustments for organisations, how to implement them and the impact they can have for their employees.
I would urge organisations to be proactive about reasonable adjustments as much as possible. The difference it can make to someone's life is invaluable.
Equally, people who are experiencing difficulties with their disabilities or impairments, I'd encourage you to seek support. You matter and are entitled to adjustments. No one should have to suffer in silence as I did.
For help and support, please consider Stamma Legal, a network for people who stammer and work in law.
Sanjay Harish Solanki is a family solicitor at Penmans Solicitors and a member of the Law Society's Lawyers with Disabilities Division Committe