Last year, I was thrilled to be selected as a Law Society social mobility ambassador (SMA), a great platform through which to give back to the profession. In this role, my main motivation is to ensure that more help is available than when I first aspired to be a lawyer from a non-traditional background.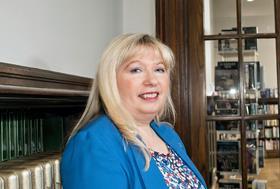 To nutshell my own journey, I was born in Armley, West Yorkshire, which is mainly famous for its jail. There I attended a local comprehensive, where teachers and careers officers were fairly underwhelmed with my hopeful queries about going into law. Their responses were along the lines of, 'you have to have an uncle with a firm who will give you a job', but my uncles were fitters and welders.
As I was good at English – work that involved crafting words, being one reason I'd thought about law in the first place – I was persuaded to study that at university. However, I never forgot that one teacher mentioned you could later take a conversion course.
Unfortunately, she never mentioned the cost. Still, I found a not-that-easy way to do it anyway. After numerous applications for training contracts I received an offer back in West Yorkshire, with a firm that gave me a good training.
Once qualified, I moved to larger firms and specialised in commercial property. This partly attracted me because it linked to the industrial world I knew, where most of my family had earnt their living albeit in manual jobs.
In-house practice
Once married with young children, such deadline-focussed work became harder to fit in. I was approached to join Next plc and found I enjoyed working in-house, as it focused on team-working and, from a social mobility perspective, lawyers were judged more on their contribution to the company, with less attention on their background.
Later I became an adjudicator with the Financial Ombudsman Service at Canary Wharf, then worked at a major building society before becoming York University's first in-house general counsel (GC). This gave me an opportunity to undertake commercial matters plus new interesting areas, like working alongside the equality department on organisation-wide policies.
In my SMA role, I've learnt from fellow ambassadors, where we've shared ideas and best practice to advance social mobility, including mooting a SMA northern sub-group called Ambassadors for the North.
Through our projects, we aim to reinforce other work undertaken by the Law Society, especially through president, I. Stephanie Boyce, who sits on the government-commissioned socio-economic diversity taskforce.
The role of educators in social mobility
We've also worked alongside other groups like the Junior Lawyers Division, which has proved helpful. I've been introduced to students needing mentoring, and I love this aspect of the role. The drive and personal qualities of these students inspires me with hope for the profession's future.
I'm now looking to set up intern opportunities, drawing upon organisations and sectors with whom I've worked. Several private practice firms, from small start-ups to nationwide businesses – some of which I formerly instructed as a GC – have expressed interest in participating.
One very ethically minded firm has provided creative ideas on blending supervised student experience with growing pro bono need.
Having worked in-house, I'm keen to see internships there also. Such experience is valuable to entrants unlikely to have existing connections. Being able to talk at an interview about work within an in-house legal department and useful contacts there, could well attract a future employer.
From my time in the higher education sector, including on the board of the Association of University Legal Practitioners, I know several higher education institution legal departments which can give varied experience, while my former colleagues in financial services are interested in helping.
With Covid-19 restrictions relaxed, increased involvement with schools is possible, such as in-person talks to state-educated pupils in disadvantaged areas. Targeting those students still making A-level decisions gives opportunity to discuss different routes into the profession, including apprenticeships.
I'm in touch with an educational charity that addresses social mobility and educational disadvantage, so I hope to work with them on this, and I am recording a video for them to cover such topics.
I'm also speaking with a local teacher where we are planning a school collaboration with students from under-represented groups, to provide mentoring and work placements. There is also scope to work with university law departments, especially outside Russell Group who often have more students from less advantaged backgrounds.
Work as an SMA can take many forms. Recently I was video-interviewed on a fast-growing LinkedIn group set up by a legal recruitment specialist to encourage social mobility and I passed on tips and strategies I'd learnt (sometimes the hard way).
Through my current role as non-executive director of a large pension fund, I've also liaised internally on their internship programme to promote social mobility, assisting their legal department interns and raising awareness of the Law Society's annual Diversity Access Scheme scholarship awards, which support talent aspiring solicitors from less advantaged backgrounds by providing funding, work experience and mentoring.
The role of SMA is undoubtedly a great privilege, bringing its own reward in terms of interest and fulfilment. Yet there remains a long way to go and much to do. If any reader feels they can help with any relevant initiatives, please feel free to contact me via the Law Society's diversity and inclusion policy team.
Helen Shay is a non-executive director of a major pension fund, a charity trustee and a Law Society social mobility ambassador