Tributes to deceased solicitors do not nowadays include a scoreboard of kills. But if the past is another country, 1940 was another planet. In that year, the Gazette's Roll of Honour entry for Peters, George Charles, flying officer Royal Air Force, records: 'He is officially stated to have destroyed on his own account two Messerschmitt 110 fighters and also credited with the probable destruction of two Dornier 17 bombers. He was also concerned in the destruction of a Messerschmitt fighter and the possible destruction of a Dornier 215 bomber.'
A reader at the time would have instantly picked up that Peters had been a hero of the Battle of Britain, which began 80 years ago this month.
Solicitors have long played a disproportionate role in Britain's flying services. In 1939, a City partner was the very first British servicemen to die on active service. At least two of the pilots on the celebrated dam-busting raid in 1943 were articled clerks.
George Peters typified the generation of lawyers turned flyers. He was born in Hailsham, Sussex, in December 1912 and educated at Malvern College. As was customary at the time he was articled to his father, G.H.B. Peters, senior partner of Blaker & Peters, Chichester and was admitted in July 1936. He went on to practise at the firm.
While the young Mr Peters may have been a diligent junior lawyer, his real passion seems to have been flying - perhaps, like so many young men, he had been smitten by one of Sir Alan Cobham's National Aviation Day displays. In January 1938 he joined the Royal Air Force on a short service commission; just weeks later Hitler annexed Austria. Peters completed his flying training that year and was posted to the staff of the School of Technical Training at RAF Cosford where he sat out the phoney war and the collapse of France.
At the beginning of August 1940, Peters joined 79 Squadron of Fighter Command, based at Biggin Hill, near Bromley in Kent. The squadron, motto Nil nobis obstare potest (Nothing can stand against us), was equipped with Mark 1 Hurricanes. Although eclipsed in popular imagination by the superficially similar Spitfire, the Hurricane was the RAF's principal weapon during the battle. It had both tactical and strategic advantages. Tactically, it had a tighter turning circle than the Spitfire and its eight machine guns were grouped to give a bigger punch. Strategically, the Hurricane's more traditional construction meant it required only two thirds the man-hours (increasingly, woman-hours) to construct and it was easier than the Spitfire to repair in the field.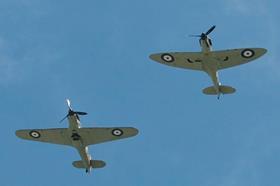 Hurricanes accounted for two thirds of the Battle of Britain's 'kills' and 79 Sqdn was in the very front line.
Peters' combat baptism was intense and brutal. On 15 August he claimed his first kill, a Messerschmitt 110 fighter-bomber, during the assault on Britain's air defences. Biggin Hill was one of the main targets. On 30 August it was attacked at noon and 6pm, with 79 and 610 squadrons sharing 10 enemy victories. One claim was Peters'.
Despite their efforts, Biggin Hill was badly damaged. An air raid shelter packed with 40 people took a direct hit and airman and local civilians (including a milkman on his rounds) worked through the night to recover the bodies. Three women serving with the Women's Auxilliary Air Force (WAAF) were awarded the Military Medal for bravery. The next day the Luftwaffe was back, destroying the operations room. A temporary ops room was set up in a nearby village shop and the Hurricanes and Spitfires kept flying from bomb-cratered runways.
On 4 September Peters shared another Me110 and three days probably damaged a Dornier 17 bomber. By then 79 was the only squadron still operating from Biggin Hill, flying three, four or five sorties a day against massive odds. On 8 September what was left of the squadron was moved to South Wales for a rest, and to block German aircraft heading up the Irish Sea to Liverpool.
Peters had three weeks to live. On 29 September the squadron intercepted a raid of Heinkel 111s over the Irish sea and his Hurricane was hit by return fire and crashed. His body was washed up at Grange, Co Wicklow. Peters was 27. He is buried in Rathnew Cemetery, County Wicklow. His Roll of Honour entry, which appeared in the Gazette that December, may have given some comfort to his father, who practised into the 1960s at the corner of West Pallant and South Pallant. Blaker & Peters was eventually taken over by Thomas Eggar & Son, which in turn is now part of Irwin Mitchell.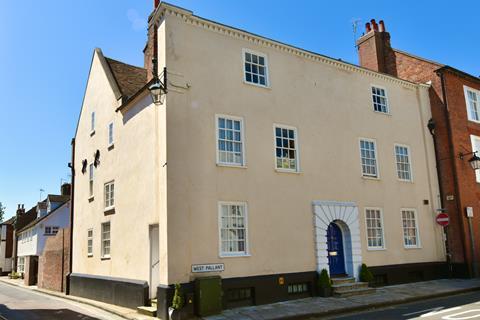 Such is the Battle of Britain's place in national consciousness that it is almost incumbent on modern historians to look for holes in the myth.
One well-explored revisionist alley is that of the kill ratio. Authoritative studies have shown that Fighter Command's victories were nothing like as claimed at the time, and as understandably talked up in parliament and on the BBC. It would be tasteless and unnecessary to inquire how Peters' score as recorded in the Roll of Honour tallied with historical accuracy: enough to say that he evidently had the flying skill, courage and single-minded determination that marked the good fighter pilot. Whatever the true figures, it is indisputable that the Luftwaffe received a severe shock and - unlike the RAF, which was being built up for the long haul - unsustainable losses.
Ah, but did the battle really save Britain? Was there ever a realistic risk of invasion? With the benefit of comfortable hindsight, we can say no. Even if Hitler had achieved air superiority in summer 1940, he was unprepared for a seaborne invasion: the couple of thousand river barges collected for the purpose were laughably inadequate in comparison with what the allies were to assemble for D-Day in 1944. But that is not how it looked in 1940, at least not to the watching world, most importantly the United States.
And that leads us to the final revisionist trope - that, because of what we know now about the horrors of what was to come, 1940 was in the end just a side-show. Again, that was not how it felt at the time. And in the end, Fighter Command's very public rebuff really did persuade Hitler that Britain would not come to terms, and that, to win a long term struggle, he would have to strike east. Thus was the war won.
To that extent, the national myth stands up to scrutiny: a handful of superbly equipped fighter pilots, directed by a world-leading command infrastructure, really did change history. The profession can be proud that a Chichester solicitor was one of the finest of the few.
Thanks to Chichester Law Society and the Biggin Hill Museum for their help in my researches. If anyone has any further personal information about George Peters, especially a photograph, I would love to hear from them.



News Editor