At the age of 12 I knew my life was different to that of my friend. There were the days off school and countless hospital appointments. During my first surgery, at 13, it became clear I was suffering with ovarian cysts and endometriosis, something I continue to struggle with to this day and will likely suffer for the rest of my life.
Now aged 28 and a full-time paralegal, I have continued to experience difficulties in my life and career due to endometriosis.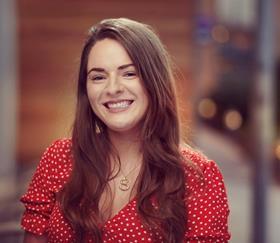 What is endometriosis?
Endometriosis is a chronic pain disease that 1 in 10 women in the UK suffer with and, at present, diagnosis takes on average seven years. Symptoms can include painful and heavy periods, fatigue, bowel problems and debilitating pain. Endometriosis can also lead to fertility issues and infertility. It can even be the case that women are unaware of their diagnosis until they are trying to get pregnant. Understanding the symptoms helps us to see why endometriosis can have such significant impacts.
My experience
After my initial surgeries, I lived an almost pain-free life until the age of 23. One afternoon in the office I was struggling with a strange pain. Days later I was rushed to hospital with a haemorrhaged ovarian cyst. In the middle of my Legal Practice Course (LPC) final exams, and with an impending training contract application to complete, I felt devastated that my prospects of doing both were beginning to crumble. My health was my priority and I turned down applying for a training contract to focus on my LPC.
I have had three more surgeries since then. Each found extensive endometriosis. Year on year it had returned and that meant for three years I missed substantial time off work to recover.
It is not the physical pain I find hard to deal with, it is everything that comes with it. The feeling that I am not good enough. The pain I have seen family and friends go through every time the word surgery is mentioned. A feeling that I constantly need to justify my pain because it is not visible. The stress I feel when I am unable to be present in the office because the pain is just too excruciating. The fear of the unknown in that maybe one day I will be unable to have a family because I am yet to discover the impact on my fertility.
There is a stigma and underlying fear associated with sharing such personal information, particularly with regard to fertility
Endometriosis in the workplace
Often, the battle for women is taking the first step to tell an employer you suffer with a condition such as endometriosis. There is a stigma and underlying fear associated with sharing such personal information, particularly with regard to fertility. Endometriosis is not considered a disability and the lack of awareness can mean a lack of understanding and support.
If one in 10 women in the UK is suffering, imagine how many in the legal profession alone are struggling in silence. It is estimated that endometriosis costs the economy £8.2bn a year in treatment, loss of work and healthcare costs. Employers taking action to raise awareness and support employees can be a big step in helping those who suffer achieve satisfaction in their jobs.
Employers starting conversations on fertility and female health issues can help employees feel more supported within the workplace. Simple but effective examples include signposting employees to important policies (such as fertility, maternity/paternity and sickness absence) or raising awareness through charity initiatives.
Endometriosis UK offers the opportunity to sign up to the Endometriosis Friendly Employer Scheme. This gives employers flexibility to develop initiatives that best support their workforce through their strands of leadership and management support, tackling stigma and changing culture and communications. Signing up to the scheme shows an employer's commitment to employee wellbeing and the need to challenge the stigma around the disease.
Employers can use the facilities of Peppy Health, a company that has created a 'first-of its-kind' employee healthcare benefit that helps employees access specialist support and resources. This includes resources dedicated to fertility.
What if you are suffering?
Knowing your rights is important. Make sure you know where to locate important policies and your rights under these policies.
If you think you may be suffering with a condition like endometriosis but are unsure, keep a diary of symptoms. This is helpful for referring back to your doctor.
Finally, remember that you are not alone. In my experience a problem shared is a problem halved, and while taking that first step to talk to someone can be daunting, it can help ease the burden you are feeling right now. Whether it is someone who has shared their own experiences, a friend, family member or a doctor, finding someone you can trust and talk to helps you start to take ownership of your journey.
If you have been affected by any issues raised here further advice is available from Endometriosis UK and Peppy Health. You can also reach out to the author via LinkedIn.
Sinéad McGrath is a paralegal at Eversheds Sutherland in Manchester, and Law Society Council member for LPC students and trainee solicitors