When news organisations try to push the boundaries of what the law allows them to report, they sometimes hope for strength in numbers. We can't all be locked up, reporters tell each other nervously. That assumption took a knock in March when no fewer than 36 news organisations and individual journalists were charged with contempt of court by prosecutors in the Australian state of Victoria.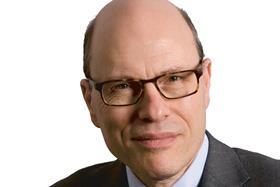 The charges involve the trial of George Pell (pictured above), a former Cardinal Archbishop of Melbourne. Although Pell was found guilty of multiple child sex offences last December, his conviction was not widely reported until February because he had been facing a second trial on unrelated sex offences. Reporting restrictions on Pell's first trial were imposed by the judge in order not to influence the jury that was to hear the second. The restrictions were lifted only when prosecutors dropped the outstanding charges.
Similar orders are made by judges in England and Wales. Last year, 20 men were convicted of involvement in a grooming gang that raped and abused young, vulnerable girls in Huddersfield. Three separate trials were needed because there were so many defendants. Stephen Yaxley-Lennon, better known as the activist Tommy Robinson, is currently facing contempt of court proceedings arising from his reporting of that case.
In setting aside an earlier contempt finding against Yaxley-Lennon last August, the lord chief justice said that, when ordering reporting restrictions, courts must balance the interests of justice in securing a fair trial against other interests such as free speech and open justice. 'Such orders are not lightly made,' said Lord Burnett of Maldon.
That message does not seem to have reached the courts of Victoria, sometimes derided as the 'suppression state' because its courts are said to suppress open justice too readily. An independent review commissioned by the state's attorney general in 2017 recommended that reporting restrictions on criminal trials should, in future, be regarded as exceptional. Victoria's law commission is now considering how that reform might be achieved.
The review also expressed concern that there had 'seldom been any response' when reporting restrictions were breached by media organisations. Perhaps that was what spurred state prosecutors into action.
Lawyers for the 36 journalists and news organisations now accused of contempt have complained that the allegations against them are too uncertain. But the broad thrust was clear enough. Under a headline that read 'CENSORED', one newspaper told its readers that the world was reading 'a very important story that is relevant to Victorians' which it was unable to publish. Another reported that 'a high-profile Australian with a worldwide reputation has been convicted of an awful crime'. A third told its readers, helpfully: 'you may have read the story online already'.
As far as I can see, though, the order was largely respected by mainstream media organisations who were well aware that their websites could be read in Victoria. An exception was the Washington Post, whose media columnist reported Pell's conviction last December and wrote that suppression orders were 'true anachronisms in the digital age, where information, thankfully, can't be shut up in a padlocked barn'.
The Melbourne contempt case has been adjourned until the end of next month so that prosecutors can identify the journalists they accuse of 'aiding and abetting' foreign news organisations to break reporting restrictions. That may be difficult to prove.
I suspect – and hope – that all charges will eventually be dropped. There can certainly be no justification for accusing journalists of 'scandalising the court', a form of contempt that was invented by English judges in the 18th century but abolished by statute in England and Wales six years ago. Preventing a defendant from receiving a fair trial may be one thing but ruffling the feathers of a judge is quite another.
That said, the media did not stop Pell from receiving a fair trial. There is no suggestion that the second set of charges against him was dropped because of prejudicial publicity. Instead, the judge ruled that evidence was inadmissible. If a ruling had been sought at an earlier stage, there would have been no need for reporting restrictions.
Social media is not going away and information about high-profile cases is bound to leak out. If people believe they are being kept in the dark, they will hold the entire criminal justice system in contempt.
Nobody is calling for the sort of media free-for-all we saw in California when OJ Simpson was tried for murder in 1995: there were running commentaries on the plausibility of the witnesses and the effectiveness of the judge. But we trust juries to reach fair verdicts in retrials, even if they know the outcome of an earlier prosecution. We must trust them more. Greater openness will not lead to greater injustice.
joshua@rozenberg.net