South Africa contains an institution that should be an inspiration to all those concerned with equality and justice.
South Africa's Constitutional Court (pictured below) has established an enormous reputation, both for its architecture and its jurisprudence. It has certainly been well promoted. I have heard no fewer than three justices extolling its virtues and read many articles on the same subject.
But, for all that preparation, I was, to put it in the vernacular, gobsmacked by my first visit. If you have a chance, go there. Take your children. Too expensive? Then at least glance at the court's website. This is a building designed to impress, inspire and educate. And it does exactly that. It has much to teach even those from its country's once imperial overlord.
The intended role and function of the court have been built into its structure. Our own Supreme Court is worth a visit for its marrying of transparency and authority. But South Africa's equivalent is a complete knockout. For a start, there is the location. It stands on a hill overlooking Johannesburg within the former grounds of a prison that, in its time, housed Gandhi and Mandela. Memories of this former life have been preserved.
Press a button and you can hear tapes of prisoners singing. Bricks from the prison provide the lining for the interior of the courtroom.
Symbolism transfuses not only the site but the building. You enter through high wooden doors carved with the 27 rights upheld by the constitution. Pass security and you are in an open foyer with thin columns that reference the African trees under which justice was traditionally dispensed. The space is light and airy. Around the walls are artwork and installations.
Most striking is one that boasts a neon sign which reads (in red) 'a luta continua' (the struggle continues). Imagine substituting the sedate coat of arms in our own courts with a reference to advancing the continuing political struggle. Posters mark the greatest hits of the court: among them abolition of the death penalty and upholding the right to same-sex marriage.
Strikingly absent from images of justice in the court is the usual idea of justice as represented by a set of scales. This is much more about justice as an active force. And that is a concept which permeates South Africa's justice system more widely. I was in the country for a conference co-organised by Legal Aid South Africa on recently published UN guidelines for criminal legal aid. Legal Aid South Africa promotes a vision in which constitutional rights and responsibilities are upheld and articulates a mission 'to be a leader in the provision of accessible, sustainable, ethical, independent and quality legal services to the poor and vulnerable'.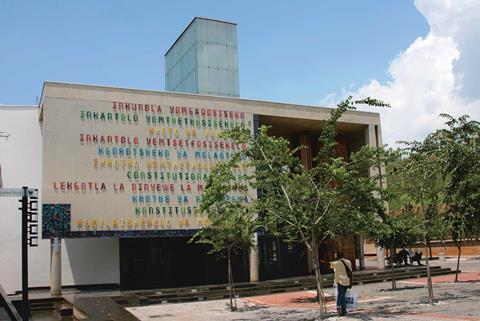 By comparison, our own Legal Aid Agency lacks any stated vision: it has a business plan instead. The nearest that the lord chancellor can get to a mission statement is: 'The creation of the agency, which focuses upon administrative competency, independent and robust decision-making, and value for money, will offer the best way forward in delivering a more credible, effective legal aid system.'
The chief executive is not much more enlightening: 'As we become an integral part of the Ministry of Justice, the agency will also benefit from shared services which, together with a major investment in IT, will reduce our staffing costs while providing a more accessible service to our customers. Through these and other changes we will have a clearer focus on our frontline operations and on delivering a better quality service within a reduced level of resource.'
Let us rejoice in the attention that our newly created Legal Aid Agency is giving to process: IT and staff reductions are surely important. But South Africa reminds us of the fundamental purpose of legal aid and justice system in holding a country together. Historically, we might have argued that the UK, as an established democracy, could eschew too shrill a rhetoric of rights and fairness.
However, that is a bit difficult at a time when Scotland is so fed up with lack of respect for its culture that it is about to vote on independence and it would seem that, within England and Wales, a disturbing number of young people are so alienated that they are attracted to violence against the state. We need desperately to shift our gaze from the day-to-day skirmishes of politics to the big issues of the constitution.
Muddling through on unwritten rules and concepts may have been fine when we had an empire to distract us, but now we need to look closer to home.
South Africa is no paradise. You would not want to wander around the precincts of its wonderful Constitutional Court too late after dark.
Johannesburg can be a scary place where inequality fosters violence. But it also contains an institution dedicated to greater equality which provides inspiration around the world – including here.
Roger Smith is visiting professor at London South Bank University and former director of human rights group Justice