If you believe Lord Justice Jackson, he was handed the brief to sort out civil litigation costs in 2008 because he was 'the new boy in the Court of Appeal'. But it seems more likely that he was chosen because he was just the man for the job.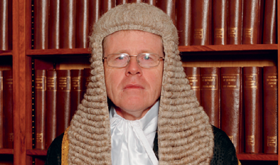 Jackson combines a mettlesome intellect with a relentless determination to get things done. He was never going to be the type to submit a neatly packaged report and then nonchalantly return to the day job. Once he accepted the brief, he would see it through to the bitter end – getting stuck in with the drafting of rules and practice directions, keeping a watchful eye on implementation and speaking out loudly whenever the ship veered off course. Last year he even found the energy for a 'supplemental report' specifically on fixed costs, which awaits a response from government.
To be wrenched from the task before it is truly finished will be a bitter pill for Jackson to swallow. He has neither the need nor the desire to retire, but is bound by a compulsory retirement age of 70 that seems hard to justify and many feel should be raised to 75.
For the most part, Jackson's reforms have been deeply unpopular with lawyers, but his commitment to the task at hand has been indisputable. For that, he has earned grudging respect – even within the solicitors' profession.