I've always been passionate about fighting for justice and becoming a lawyer seemed the most realistic way of achieving this.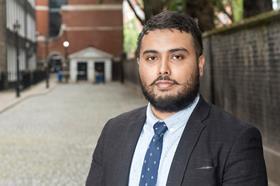 Major issues ranging from racism, immigration and housing are factors that can affect Black, Asian and minority ethnic working class communities like mine. I am of British Bangladesh heritage – and with the cuts to legal aid, access to justice can be seen as a privilege, rather than a necessity.
This also impacts on the representation of the profession, i.e. lack of diversity and how individuals from a non-traditional background like me initially struggle to become qualified.
All of this inspired me to become a solicitor. I specialise in immigration law, where I'm able to provide access to justice on the front line by frequently showing my tenacity to fight a system I believe was set up against the vulnerable individuals of British society, whose rights have been impacted through hostile government policy.
In 2017, at the age of 26, I co-founded Black Antelope Law, which has a strong immigration practice.
Diversity and inclusion
Outside of Black Antelope Law, I currently sit on the Law Society's equality, diversity and inclusion committee, while in 2021 I was appointed as a social mobility ambassador.
I was also on the judging panel for the Diversity Access Scheme and the Law Society's grants and sponsorship scheme advisory panel.
The challenges of the Covid-19 pandemic have greatly redefined my expectations of how I intended to deliver my social mobility ambassador role.
In hindsight, this has encouraged other social mobility ambassadors to be more innovative in the ways in which they share their experiences with aspiring solicitors.
They have looked to other ways in which they can spread their message by utilising technology and have taken part in relevant topic-related podcasts, spoke in webinars with organisations such as the Sutton Trust and virtual mentored via platforms such as LinkedIn.
Many people entering the profession can't afford to practise human rights legal aid work at the moment as it is so underfunded and underpaid. If aspiring solicitors are working class or are from an ethnic minority, like me, then supporting schemes that facilitate people's experience of public law is important.
Understandably, the concerns and anxiety faced by aspiring lawyers entering or seeking to enter the profession are at an all-time high. This is one of the reasons why I have had to think outside the box to ensure that I am committed to delivering my personal pledges as a social mobility ambassador, so I can spread the word that aspiring solicitors from any background can work in human rights law and they can make a difference in doing so.
I've seen first-hand the difference solicitors can make to their clients' lives and I am well-rehearsed at successfully holding public bodies – such as the home secretary – to account for their decision making where there has been a breach of policy, legitimate expectation, and proportionality in addressing complex legal decisions which may interfere with an individual's human rights and civil liberties.
In this vein, I was shortlisted as a finalist for Lawyer of the Year at the Modern Law Awards 2020 for the work my team and I had done in immigration law and our attention to client care.
Previously I've been a trustee and pro-bono lawyer of the Habeas Corpus Project (HCP), a charity which provided pro-bono legal representation to challenge unlawful detention of migrants and asylum seekers in the UK.
The charity promoted the rule of law, accountability in immigration control and access to justice for all. In the first year of operation the HCP provided pro-bono legal assistance to over 100 people held in immigration detention.
Future Lawyers Project
More recently, I signed up my firm to exclusively join and participate in the Future Lawyers Project between law firms and London South Bank University (LSBU), which is set to enter its ninth year.
The project is a diversity access scheme supervised by Professor Sara Chandler QC and her team, which enables LSBU law students to gain vital work experience in a solicitor's office.
In its simplest form, it's a week shadowing solicitors and undertaking simple tasks while also applying the knowledge from their studies.
The benefits for the community are obvious. Students are trained to understand how to navigate the law and resolve legal problems from an early stage of their academic and vocational studies.
As a first-generation lawyer from an ethnic background and the first person in my family to graduate university, I stepped into a career that from the outset seemed daunting and challenging.
I did not have the benefit of previous connections in the legal field and have had to forge my own path through perseverance and hard work.
It was intimidating – especially when a lot of firms still expect law graduates to have attended a Russell Group university and to have participated in extracurricular activities alongside their studies.
Therefore, joining the Future Lawyers Project was a no-brainer and I hope to transfer the experience I gained from the HCP to the LSBU so its students can use my knowledge and experience in their own careers.
Shaheen Mamun is a co-founder and a director at Black Antelope Law, a member of the Law Society's equality, diversion and inclusion committee and a Law Society social mobility ambassador