Migrants crossing the channel in small boats is a real problem and risk to human life, which so far, the UK Government has struggled to tackle. Their newly announced migration deal with Rwanda is yet another example where ministers have tried hastily to push through a policy which civil servants have clearly mandated to be a failure. The Home Secretary Priti Patel has rendered the scheme as "groundbreaking" and "innovative" – however, with high expected costs for taxpayers on top of Rwanda's questionable human rights record, it is not clear what are the parameters and criterion truly are for the policy to be considered successful.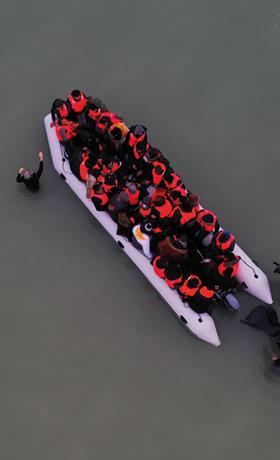 Human rights
As per the UNHCR charter, it is the responsibility of the UK government to assess the merits of the claim upon arrival. Instead of streamlining the current system's existing problems and quickly processing the refugees cases, the Government has done which is always the easiest trick in the rulebook - to create a smoke screen and outsource the primary responsibility to a third-party.
This newly adopted approach towards solving human migration crisis seems to be less credible since Rwanda has a fragile economy with a failing healthcare and human rights records. It is surprising to see how the Government's stance has changed regarding this. According to the Government, migrants will have a new and prosperous life in one of the fastest-growing economies, an assertion which has not been backed up by facts. But just last year, the UK's ambassador for human rights declared that Rwanda was not failing to provide "transparent, credible and independent investigations into allegations of human rights violations including deaths in custody and torture". As many have discussed, it's likely that this plan will bring many legal challenges on the horizon for the Home Office…
Legal challenges
One of the main overarching legal framework to be used is the Refugee Convention, to which UK is a signatory. Article 33 of the Convention prohibits the UK from returning asylum seekers to a country where their life or liberty will be threatened on the basis of their race, religion, belonging to a social group or political opinion. There is a potential that such removals will be legally challenged in the UK Courts under Article 33 of the Refugee Convention. One clear example is the same sex marriage and LGBTQ+ cases. Rwanda does not accept same-sex marriage and their LGBTQ+ rights are not recognised fully in their constitution, which defines marriage as a union between a man and a woman.
The UK as a State is still a party to the European Convention on Human Rights which is both binding and enforceable. In cases of removal to a potentially unsafe country where such human rights breaches are likely, it is arguable that the provisions of ECHR will be violated. It is important to note that UK is not exporting the processing of the asylum cases for migrants only, but that migrants will be living in Rwanda on permanent basis. The financial support from the UK government after the successful outcome of the asylum claim in Rwanda will not be permanent. It is not clear how the successful applicants will be treated after they have been given a piece of paper confirming their successful outcome of asylum.
In the Government's plan, the migrants arriving from boats on the UK shores will be served with a notice informing them that they will be removed to Rwanda after 5 days where their asylum claim will be processed. It is this notice which will be subject to a judicial review under the civil procedure rules, requiring the High Court justices to conduct a judicial inquiry about the legality of this notice. In my opinion, it is likely that Ms Patel's legal team will have insurmountable difficulties in sustaining this legal challenge in absence of a coherent and potent evidence supporting their position.
Other options?
If common sense must prevail, then the UK government should instead look at creating economic welfare zones in the countries from where these migrants are coming, creating training centres for their young generations and connect them with the global opportunities at their doorstep. This I would call a long-term gain which will be entirely compliant with the international standards of humanity, poverty alleviation and best of all fulfils the needs of humanity.
The UK should work also with European partners to honour this obligation towards humanity rather than avoiding it, such as working with France and Germany to crackdown on trafficking, as well as creating asylum processing units in far-reaching parts of the UK.
But for Rwanda, this plan is an image building exercise which provides them with a blank cheque - the price and cost for the UK Government will change at the gun point once the scheme has taken off because only Rwandan Government will have the leverage. UK tax payers will pay an extortionate amount to roll out the programme, its sustainability, and then perhaps they will pay for the roll back of the programme.
Ultimately, the reasons stipulated for pushing through this policy are no longer different than what policymakers gave to justify the Human Rights breaches committed by the US relating to the atrocities in Guantanamo Bay. Johnson's stance that there was no other option to tackle channel crossings is a tacit admission that this new deportation plan will not work.
Farhan Farani, Managing Director of Farani Taylor
This article is now closed for comment.