The Law Society had its Annual General Meeting last week. This is of little or no interest to the overwhelming majority of the profession.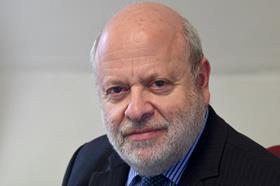 I rarely write about being a Council member, but, since I came to the end of my four-year term as Council member for 'EU matters' at the AGM, and am just beginning a new term for the new seat of 'EU & International', I thought I might look back and see what difference, if any, I have made.
Being a Council member is rather like being a passenger on a crowded ocean liner, either yelling to point out the beautiful island full of sandy beaches and fruit trees that no-one else has noticed, or, more often, the icebergs which loom ahead. Of course, there is no reason why one voice should be immediately heeded and followed, but I think even the collective of Council members shares the same sensation.
That is not to say that the Law Society does not deal with the crucial issues facing the profession. It does so relentlessly. Its main focus is on what everyone would consider our profession's bread-and-butter issues: unsustainable legal aid pay rates, the catastrophic state of the courts, the continuation of the Solicitors Indemnity Fund (SIF), improvements to the AML regime, assistance for the profession during the pandemic, opening international markets, and so on.
The future of SIF was the first substantive item discussed at the AGM. There was a member's motion, which provided an opportunity for the Society to publicise its newly minted SIF statement, which commits the Society to continue to work with the SRA to facilitate SIF's extension.
So what difference have I made over the last four years? I hope I have helped my constituents. I push for issues which improve EU and international practice whenever I can. For instance, I was instrumental in lobbying for the Brexit-related guidance which the Law Society published at the time of our exit. A few constituents have written to me with problems, and I have tried to sort them out as efficiently as I can.
I have been lucky enough to be elected to the Society's principal policy committee (the Policy and Regulatory Affairs Committee, or PRAC), and one of its member's duties is to comment on and approve the Society's policy positions before they are issued. That has enabled me to give views on a wide range of matters, I hope sometimes for the better.
But I think one of the main roles of Council members is to bring to the Law Society policy ideas from their working life which would otherwise not be discussed. I have tried to raise concerns which almost no-one else is raising. Readers of this column may find them familiar, and may not agree with them, but here is a small sample:
in all the vigorous promotion of London as a global legal centre, there is another side to our being open to all – that mega-rich foreigners use our legal system to hide their wealth or to oppress their critics through litigation, and we need to consider the consequences
our continuing legal education system is based on a system of knowing the areas on which you need to be trained, but there is a logical flaw in it, since there are some issues which you do not know that you do not know, and these are most likely to be the ones on which you need to be trained – I would cite knowledge of the workings of our daily IT systems as a good example; should CLE rules be tightened up again?
the issue of unregulated providers of legal services poses a challenge, because such providers may assist with the never-ending problem of access to justice, while not offering the guarantees which come with a regulated service – how do we deal with that?
There is one topic, though, which I have pushed with great effort, to the point doubtless of irritating others. It is not within my mandate of EU and international – although it is not within anyone's mandate at present, and it is a universal subject. That subject is climate change. Many solicitors are opposed to the Law Society having anything to do with it. Interestingly, that is not the view of many large City firms and in-house counsel for large organisations, who are dealing with its consequences on a daily basis and would be pleased to see the Law Society involved. I have pressed for greater Law Society involvement (for instance, advice on ethics, sustainability and existing resources).
If nothing else, raising the profile of climate change within the Society is what I have achieved over the last four years. No-one else on the Council has been doing it, and whatever you think of the subject, it must be good that there is at least one Council member pushing it.
Jonathan Goldsmith is Law Society Council member for EU matters and a former secretary general of the Council of Bars and Law Societies of Europe. All views expressed are personal and are not made in his capacity as a Law Society Council member, nor on behalf of the Law Society