Priti Patel is 'from the Indian subcontinent', former Conservative leader Iain Duncan-Smith confidently informed Radio 4 listeners at the start of Patel's first full day as home secretary. She is, in fact, from Harrow as quite a few listeners swiftly pointed out.
As someone with a foreign name, I relate to this incident – while they weren't a 'Reyes', the first member of my family here probably arrived on a Viking longboat.
For Patel the context was a slightly handless attempt by IDS to praise her appointment to a top job, so I doubt it has created a problem between them. They seem to agree on all key political questions, and are very much on the same side.
In other contexts – the right to live and work in the UK - assumptions about where someone was born are having a more damaging effect, and tacking that should be one of Patel's priorities.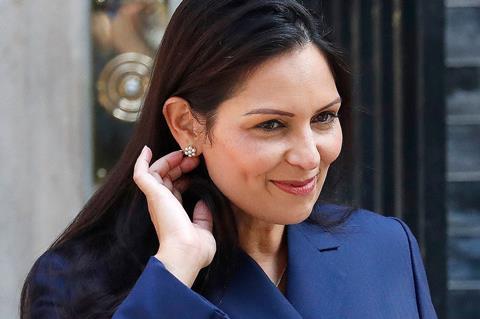 The reasons are starkly set out in a white paper on the 'hostile environment' by the Immigration Law Practitioners' Association (ILPA). It charts the impact and background to the Home Office's 'hostile environment' policy, which the professional association concludes is still in full operation, despite a softer-sounding government emphasis on a 'compliant environment'.
Tackling 'the dysfunction at the heart of the UK's immigration system' must be a priority for the prime minister and home secretary, it concludes.
Broadly, ILPA detects 'a decades long history of obfuscation, bureaucracy and confusion', but its real interest is in the detail of that record, and in identifying the costs – to people's basic human rights, businesses, the public sector and property owners.
Under Home Office guidance, the white paper shows, employers are told to reject genuine documents proving a 'right to work', accepting only an endorsed current passport or biometric permit. This has created costly delays for successful job candidates with a knock-on effect on their ability to secure accommodation and banking facilities.
Policy has made 'pseudo immigration officers' of employers, landlords and members of the NHS.
New responsibilities placed on employers and landlords to check immigration status include flaws, which the Home Office simply ignored, the white paper reveals.
It includes 2017 correspondence with civil servants in which ILPA pointed out the perverse incentive for employers to carry out 'less robust checks' on employees' immigration status. Employers lose a 'statutory excuse' for errors if they use specialist support in carrying out checks.
In Whitehall's post-Brexit planning, insufficient attention has been paid to immigrants' ability to access the residential property rental market, the paper adds.
Some over-cautious employers have dismissed employees who in fact have a right to work.
ILPA is sharing its white paper with civil servants, ministers and parliamentarians. I hope they don't just see it as lawyers having a pop at the Home Office.
After all, the 'Windrush generation' scandal, which horrified politicians from all parties, highlighted problems that extend across immigration policy, and ILPA also puts forward steps that could improve the operation of immigration policy.
These include 'a digital system to display immediate confirmation of the right to work', and the consolidation of 'all existing legal provisions/policies into one clear, legally correct document'. 'Remedies' for workers who are wrongly dismissed or prevented from working must be developed, it adds. There are many other recommendations.
Such ideas could be cherry-picked by the new home secretary, and that would be a good thing.
There is, though, no getting away from the fact that the overall policy of the Home Office, not just its operation, is the source of many problems. As one of the white paper's authors, Bates Wells partner Chetal Patel, notes, while policy is based on 'compliance, enforcement and collaboration', it is 'also underpinned by the idea that if you make things miserable for people, for instance, by giving them no access to housing, NHS services or safe employment, they would be driven to vulnerability and they may leave. In reality the policy doesn't achieve this aim'.
'Should hostile environment checks by outsourced to non-civil servants?' she asks. 'The simple answer is no. Doing so has also raised concerns that a lack of knowledge and unintended discrimination can cause difficulties for an individual subject to these checks in their day-to-day lives.'
There were many people on hand to point out that Priti Patel is from Harrow, and there were, in any case, no negative consequences from Duncan-Smith's error.
Not everyone about whom a wrong assumption is made is as fortunate – a point that surely deserves attention from the home secretary.


Features editor