The historic notion of a family lawyer was of a career litigator who treated relationship breakdown as just another commercial dispute. With the advent of national family lawyers' organisation Resolution in the early 1980s, the Code of Practice to which all members sign up and a focus on specialist training and interdisciplinary working, there has been a sea-change in approach.
There is a fresh breed of family lawyer who triages each client, signposts to the right pathway and does not think of court as the 'norm' or encourage it as the only or best way forward. Resolution and others have worked hard to persuade government, after the 2013 legal aid cuts and in pursuit of the return of funding for initial legal advice and signposting to non-court alternatives like mediation, that family lawyers are part of the solution, not the problem. Resolution has also been a key player in the successful campaign for no fault divorce, which will hopefully make a significant difference when it comes into force later this year.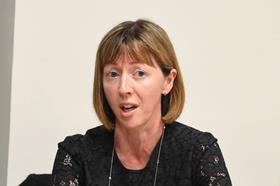 For all of that, few family lawyers would think that we can pat ourselves on the back and say job done. The court statistics make for hard reading. It is clear that more and more separating parents (increasingly without representation) see court as the default option – there has been a steady upwards trend in applications for child arrangements orders since 2014, with almost 56,000 applications made in 2020 affecting around 100,000 children; and because of this deluge cases are dragging on for ever longer, taking on average 39 weeks to conclude in 2020, a staggering increase of 11 weeks in just a year.
The stats about the effects on children of conflict also speak for themselves. Untold damage is being done to children as a result of badly-handled, acrimonious parental separation. One children's mental health charity, Place2Be, reports that ongoing family tension is one of the most common presenting issues in primary school-age children who are referred to them for counselling (67%). 'Family relationships' is consistently in the top three issues which children contact Childline about. The DWP's research suggests that over one in ten children are living with damaging levels of conflict.
Those who work within the family justice system are aware of the issues. The Family Solutions Group's report What about me? Reframing support for families following parental separation, published last November, highlighted the need for 'all of us who work in the field of family justice to place the child's long-term welfare…ever more firmly at the centre of our work'. Its recommendations included a wide public education programme as well as focus on what more family professionals could do. What about me? referred to a system in crisis and cautioned that the radical reform needed would take time.
This week, a campaign that I am involved with launched to change the culture of parental separation away from one that is too often adversarial and court-based to one that has better adult communication and child-centrity. The Positive Parenting Alliance is a grouping of leading parents organisations, relationship charities, those who work with children in the sphere of parental separation/mental health and some parents who have been through separation themselves. Its broad aim is to start a wider conversation in society about separation with the hope that, over time, there will be a change in culture and a reframing so that children's needs come first when a relationship ends.
Central to the campaign is the 'Parents Promise' – a statement of principles by parents, during happier times, about how they would approach co-parenting and child arrangements if ever they separated. As the family lawyer member of the Alliance, my role has been to consider how lawyers may better help to reduce conflict for children's sake. It is our responsibility to reflect hard on what more we could do to discourage parents from going to court except in those cases which really need it. I hope family lawyers will promote the Promise as a positive first step for parents.
Jo Edwards is a partner and head of family at Forsters LLP