We will all have seen the media coverage on Cop26 taking place in Glasgow over the next few weeks, and the world's eyes are on the outcomes of the talks. In my conversations with members and through the work of the Law Society's Climate Change Working Group I have developed a more sophisticated understanding of the issues, how the profession is affected and the steps that some of our members are taking in response to these challenges.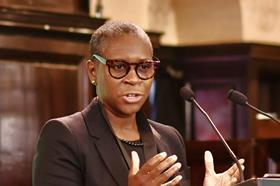 Last year, we established a Climate Change Working Group to make recommendations on the Law Society's approach to climate change-related issues. Many of these recommendations were adopted and have been taking shape behind the scenes, including the development of a statement on our future approach and providing resources to members.
We all already know that we must reduce global greenhouse gas emissions to reach net zero by 2050 and that climate change is a complex problem which will be solved through action from numerous actors across all layers of society. Mustering the global spirit for this requires solutions and actions to be taken by every one of us, which is arguably the true challenge.
Nearly a third of the UK's largest businesses, including some law firms, have pledged to eliminate their net contribution to carbon emissions by 2050 and many global economies and governments are beginning to head in the right direction with their commitments on climate change.
However, this is still not enough. Despite the UK government enshrining in law its target to cut greenhouse gas emissions by 78% by 2035 (the Sixth Carbon Budget), the independent Climate Change Committee has stated the UK is on track to miss its target by a 'huge margin'. Research suggests that global temperatures will rise by 3°C if listed companies continue along their current projected emission pathways.
It is not a matter of whether we reach net zero, but whether we reach net zero fast enough.
Some organisations are already looking to law firms and solicitors to reflect their own values and stance on climate change and sustainability. For example, we know that law firm panels are being asked for information on their net zero strategies as part of the tendering process.
So firms are pivoting their legal services to address their clients' climate-change standards as well as meeting the demands and realities of a changing regulatory and economic landscape.
We have published a climate change resolution to urge individual solicitors and their organisations (either law firms, or the organisations they work for in-house) to develop a climate-conscious approach to legal practice. In this, we highlight our own climate change commitments and outline the different ways in which law firms, organisations and members can play their part.
My conversations with members on climate change-related issues has shown me how we are all coming to this issue from different starting points. Some are fluent in the terminology and are already strong advocates, whereas some are at a loss as to where to begin. As a membership organisation, I see the Law Society playing a key role in setting out what we'll be doing, as well as providing useful support and guidance to those who need it.
I hope our resolution is relevant to all solicitors - climate change is no longer just the preserve of environmental lawyers.
The resolution contains action-based commitments for the Law Society, including a commitment to develop plans and take rapid action to restrict global warming by adopting science-based targets for our own business operations.
We hope our members can look to our commitments and take their own steps to improve their environmental footprint. We must not forget who we are and what we can do as solicitors –as much as we uphold the rule of law, protect human rights and ensure the administration of equitable justice, we have the power to be facilitators of positive change.
Cop26 is bringing climate change into sharp focus, but we must not forget the road that leads out of Cop26 is as important, if not more important than the conference itself. We encourage you to join us, engage in your own climate leadership and consider how you can play your part today.
I. Stephanie Boyce is president of the Law Society of England and Wales