This election is a pivotal moment for the country – and not just because of Brexit. Successive governments have ignored legal aid, stripped back provision and left our justice system in a dangerous and underfunded state.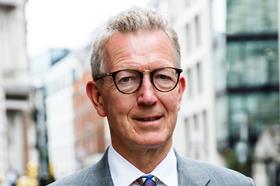 So, as we prepare to vote next month, I am calling on politicians from every party to focus on something fundamental to our nation: access to justice and the rule of law.
In making that call, it is vital to remember UK legal services contributed more than £27.9bn to the economy in 2018. We contribute £4bn to net exports. We directly employ more than 380,000 people and support many thousands more jobs in our local communities. We underpin business deals around the globe.
Together, with a highly respected and independent judiciary and a top-quality bar, we combine to make the UK the jurisdiction of choice for the resolution of international disputes.
Our legal system has long been seen as the global benchmark. Our members fight the corner of some of the most vulnerable in society, including those struggling with mental health issues or personal hardship.
But there is a crisis, and there are things that urgently need fixing in our justice system. The party that wins the election needs to focus on this or we will lose something fundamental. And I fear that many will not realise until it is gone.
So we are launching our own manifesto – a document which brings together years of work campaigning for the legal system we so desperately need.
Criminal justice
Underinvestment and neglect have left our criminal justice system in dire straits.
There is a growing shortage of duty solicitors, the court closure programme has had a profound effect on access to justice, and there are too few independent experts when cases go to trial. The effects are felt most acutely by some of the most vulnerable people in our society.
The same groups are most affected by the barriers to accessing legal aid. Then there is the problem of disclosure of evidence to defence teams.
A well-functioning criminal justice system is crucial to ensure victims of crime get justice, and those accused of a crime are given a fair trial.
But data published by the Law Society shows that in five to 10 years we simply won't have enough criminal duty solicitors in many parts of the country, leaving people accused of crimes unable to enforce their rights. The main reason for this shortage is the fees paid to criminal duty solicitors, which have not increased since the 1990s. I cannot think of another job where pay has not risen for 30 years. We are already seeing some counties where there are no criminal duty solicitors under the age of 35.
Access to justice
Access to justice is a fundamental principle that underpins British values and the rule of law. Vulnerable people must be able to use the legal system when they face serious problems in their lives.
In England and Wales, these people face significant barriers. Stringent means-testing for legal aid has left many – including some living below the poverty line – ineligible for legal aid and unable to resolve their legal problems through the courts.
Funding for early advice is a money-saver – deal with problems before they escalate to the point of litigation and you save resources down the line.
Global legal centre
English and Welsh law is recognised around the world as a global benchmark. After the UK leaves the EU, the law of England and Wales will retain many of the advantages that make it attractive to international businesses, including its predictability, transparency and stability. However, preserving the legal sector's strong economic contribution to UK plc will require close cooperation with the EU and the continued ability of UK lawyers to practise, establish and provide temporary services on the continent.
Currently, UK lawyers and law firms can have a temporary or permanent presence in other EU and European Free Trade Area (EFTA) member states. Without a comprehensive deal, after Brexit UK lawyers and law firms could find themselves operating under 31 different national regulatory systems across the EU and EFTA, hitting their ability to represent their clients effectively.
Non-EU trade is also crucially important for lawyers and their clients. As an enabling sector for international trade, the next government should seek to negotiate legal services chapters in new free trade agreements with non-EU countries and support efforts to liberalise markets in other jurisdictions.
There are many opportunities out there; the legal sector stands ready, as it always has, to make its economic and social contribution. But we would urge the incoming government to do the following:
Conduct an independent economic review of the long-term viability of the criminal legal aid system. The next government should raise criminal legal aid fees in real-terms and guarantee no future real-terms cuts to remuneration.
Reinstate legal aid for early advice from solicitors in housing and family law. This will help prevent cases from escalating unnecessarily and allow them to be resolved sooner.
Increase the civil legal aid means test income and capital thresholds to ensure more people can access legal aid, and remove the capital test for those on income-related benefits.
Secure a future relationship with the EU that allows lawyers to continue to practise and base themselves in the EU; and to appear before EU courts and ensure legal professional privilege for their clients. We believe the best way this can be achieved is through an association agreement.
This is a crucial moment for our country and the rule of law. So, we are calling on all the political parties to make our justice system one of which we can all be proud.
Simon Davis is president of the Law Society