Chronic debilitating illness. Abusive home life. Alcoholic or drug-addicted parents. Homelessness. Negative credit rating. Undiagnosed dyslexia. Chaotic childhood in care. Leaving school at 16 to earn a living. Unresolved refugee status. These are some of the disadvantages that candidates have had to overcome even to be considered for a bursary and other assistance from the Law Society's Diversity Access Scheme (DAS). Because set against these obstacles, successful candidates must also have found the resilience to pass A-levels, the academic strength to secure a place at university to read for a law degree, and the determination to gain work experience in some legal capacity.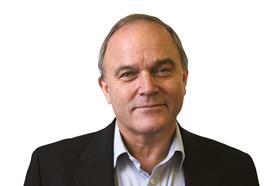 Having achieved all this, the final obstacle to a legal career has been funding their Legal Practice Course (LPC). The LPC costs thousands (as does the new Solicitors Qualifying Examination and attendant preparation courses, which will replace the LPC). Candidates rarely have the credit rating to borrow the money or the serendipity of the bank of mum and dad to fall back upon. And thus the door to a career in the law slams in their face.
DAS reopens that door and gives hope to aspiring lawyers who have not had the financial and other less-tangible advantages many of us take for granted. In addition to LPC funding, it links candidates with mentors and advises them about the next stage of their career.
That is not to say that the scheme is a fast-track to qualification or that it is depriving other deserving candidates of a career in legal practice. There are still opportunities for individuals from more supportive backgrounds who studied hard at school and university before climbing the slippery pole and being admitted to the roll. And notwithstanding the profession's stated aspirations towards enhanced social mobility, there are still candidates who move smoothly from private education to Oxbridge to a billet in a City firm where a favourite uncle happens to be a partner.
But returning to the mechanics of securing the help of DAS, does the scheme successfully provide a lifeline to aspiring lawyers who do not have the socio-economic background to oil the wheels of their ambition?
Law Society president I. Stephanie Boyce is certainly generous in her praise: 'DAS has, to date, helped around 250 aspiring solicitors from less advantaged backgrounds to kickstart their legal career. I am hugely proud of and admire the achievements of our DAS alumni in the face of real challenges – with some awardees having escaped oppressive overseas regimes and some achieving professional success while dealing with serious disabilities.'
This year's successful candidates
Jade Weeks graduated last year with a law degree from Manchester Metropolitan University and is currently studying for a DAS-funded combined LLM master's and LPC at the University of Law, Manchester. She plans to practise in medical negligence, having 'really enjoyed' the medical law and ethics module during the third year of her undergraduate studies.
'I'm so grateful for the priceless opportunity that DAS has given me,' she says. 'I grew up in foster care from 11 to 18 and so have no family network to fall back upon. I live in a flat and work part-time as a sales assistant at a local Sainsbury's. The combined LLM and LPC costs around £13,000, and then I must pay rent, food bills and the rest. I don't qualify for a post-graduate loan and so that looked like the end of the career that I'd set my mind upon.
'Fortunately, the DAS judges saw something in me that persuaded them to give me a chance. Without the scheme, I couldn't have continued in the law. DAS gives people from every background an opportunity to follow their dreams. We should be telling more people from my sort of background about DAS so that they can do it, too.'
Another successful candidate, Karen Doyle (pictured) is now in her mid-40s and has been an anti-racism activist since she was 16. That was when one of Doyle's school friends was almost killed in a racist attack. Since then, she has been a leading light in the Movement for Justice by Any Means Necessary, which campaigns for immigrants' rights and other causes where a person's ethnicity is key.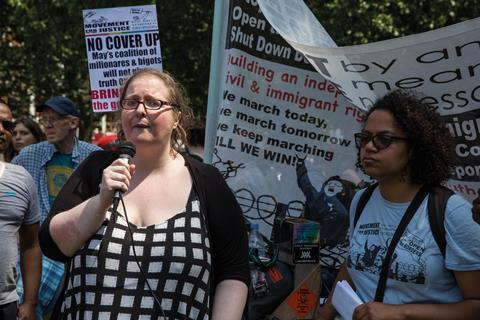 This time last year Doyle's campaigning activities aroused the Mail Online's ire, prompting it to label her a 'veteran Marxist', the movement a 'Trotskyist cult' and her actions part of an initiative to halt the deportation of 'criminals including murderers, rapists and drug dealers'.
Doyle says: 'The Stephen Lawrence murder and the close escape of my classmate made me want to use the law for the good of all. I was still young and didn't come from a moneyed family. That is one reason I never finished my A-levels or went to university but started work at 18. I also had health issues. But I was able to make a difference by providing support to people with disabilities and mental ill health, and also advise them on immigration law.'
Doyle managed to pay her way through university as a fine art student before last year completing the graduate diploma in law. She is now a few weeks into her DAS-funded LPC at Westminster University. 'I'm enjoying it immensely,' she says. 'It's all very practical – I'm not a big fan of the academic approach. I also have the advantage, unlike most of the other students, of having already attended many court cases as a support worker.'
The Gazette next meets Roxana Cretu. A Romanian national, she left her home country four years ago and, for the first 12 months, was living alone and homesick in Leeds. 'I was only 18,' she explains, 'and a long way from everyone and everywhere that I knew. This despite since childhood always wanting to travel overseas.'
How did a Romanian teenager find herself in Leeds? She explains that an 'English mentor' in Romania had recommended Leeds University as a good place to study. 'I could only visit the campus via a website rather than in person,' she says, 'but it gave me a taste of what life would be like there. It was a good choice and, anyway, I love city life.' She duly graduated, easily navigating the change to England's common law from Romania's civil law. She is now studying full-time for a DAS-funded LPC, again at Leeds University, while working part-time from home for the British Red Cross helping reunite refugee families.
Cretu adds that she is now engaged to her Romanian boyfriend and can see herself settling in this country to pursue a career working with vulnerable people: 'Not necessarily immigration law exclusively, but probably something more commercial. The opportunities in this country are endless.'
These three successful candidates for DAS sponsorship are on the threshold of their legal careers. But what about those graduates of the scheme who with the help of DAS have completed training and entered the profession? What has happened to them? Fortunately, two of them are among of this year's judges for the DAS awards.
Who qualifies and how to apply
The Law Society's Diversity Access Scheme (DAS) was launched in 2005 and has since helped around 250 people who would otherwise have been unable to pursue a career in law.
DAS addresses three fundamental obstacles to fair access to a career in the law. These are access to finance, to professional contacts and to opportunities for work experience. The scheme achieved this in 2021 through providing candidates with their Solicitors Qualifying Examination or Legal Practice Course fees, work placements and professional mentors.
Applicants for the 2021 scheme were asked to confirm that:
they attended a non-fee-paying school;
they are the first generation of their family to have attended higher education; and
they received free school meals during their school days; or
they have no more than £5,000 in their bank account, savings or otherwise invested.
They were also required to write a 750-word essay addressing the following: 'The restrictions imposed on the British people during the Covid-19 pandemic constitute a violation of basic civil liberties. Discuss.'
All submitted applications were scored against set criteria and marking guidance, and followed a blind recruitment process. A total of 277 applications were received in 2021, of which 34 were shortlisted for interview and 15 secured DAS funding.
Law Society president I. Stephanie Boyce says: 'To thrive, our profession needs talented, driven individuals from diverse backgrounds. I encourage any aspiring solicitor who is facing challenges qualifying to consider applying to the DAS. But without the generosity of our sponsors, we wouldn't be able to support our talented awardees and DAS simply wouldn't exist.'
DAS is sponsored by law firms Withers, Kingsley Napley, Hogan Lovells and Sackers, as well as various law schools and others.
Applications for the next cohort of DAS awards will open in February 2022. All enquiries to Leila Lesan at diversityaccessscheme@lawsociety.org.uk.
Success stories
Whitney Joseph, a banking and finance associate at national firm Mayer Brown, comes from the sovereign state of St Lucia, an island in the Caribbean that was ruled by France and the UK before gaining independence in 1979. Most of her family still live there. Joseph says: 'I had several barriers to becoming a lawyer. I'm black and female, for a start, and I also suffer from sickle cell anaemia, which led me to collapse during one of my exams at university. Stress is one of the triggers of sickle cell crises.'
Sickle cell anaemia means blood is unable to carry oxygen around the body effectively. This is because red blood cells are an abnormal shape – sickle or crescent-shaped instead of disc-shaped – so they cannot bind as much oxygen as a normal cell. This will often leave you feeling tired, short of breath and prone to infections. You are also susceptible to agonising episodes of pain, often brought on by stress. Sickle cell diseases are genetic and are most common among people of African and African-Caribbean heritage. In October 2021, the government announced the rollout of the first new drug treatment for the disease in 20 years.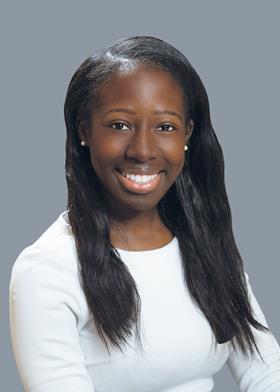 'Despite all this,' continues Joseph, 'I gained my LLB and began trying to save money for the LPC. Lack of self-confidence was a problem: would I be good enough for anyone to give me a training contract? It was a real vote of confidence when I was admitted to DAS.'
Commenting on her experience judging this year's candidates, she says: 'All judges were given the same scoring criteria against which to gauge an applicant's suitability for a career in law. That way all candidates were assessed equally, minimising the risk of bias. These included showing motivation and the resilience to overcome barriers. These might be ill health, socio-economic background or cultural where, for example, women are discouraged or forbidden to study beyond a certain level. Candidates were also asked to describe a personal achievement of which they are proud and tell the judges why it was important.'
Another judge, Lynette Wieland, is also one of the 2013 cohort. She is a health and social care associate at the Nottingham office of national firm Browne Jacobson. Earlier this year, she achieved the distinction of being appointed a Law Society social mobility ambassador. As the Gazette reported on 26 July, she will 'promote role models from non-traditional backgrounds who are committed to sharing their stories and raising the aspirations of students and graduates interested in joining the legal profession'.
Wieland has dyslexia (difficulties with reading and writing), dyscalculia (difficulties with mastering mathematical skills) and Meares-Irlen Syndrome (difficulties around reading and spatial awareness). Also, circumstances beyond her control obliged her to leave school at 16 without any obvious prospects.
Against the odds, she was able to take on an apprenticeship in business administration with a vocational training provider. She progressed from there to taking an access course at Birkbeck College, University of London, and then to the University of York for three years, where she went on to graduate with an LLB. 'But overshadowing all this remained the problem of paying for my LPC,' Wieland says. 'And then I received what I call my graduation present. Two weeks before I graduated, I was told that I had qualified for a DAS scholarship.'
Fast forward a few years, her LPC duly completed, Wieland secured a paralegal role at Browne Jacobson which, three years later, became a training contract leading to qualification. It was the culmination of a long and arduous journey, one which made her ideally suited to sit on the DAS selection committee.
'As a judge, I was looking for tenacity and a real commitment to the practice of law,' she says. 'And for curiosity and the ability to understand other people's points of view. I also asked candidates about challenging situations they had encountered and how they coped. We were seeking well-rounded individuals who would be a credit to the profession. We found 15 of them.'
In addition to the firms and companies named above, the scheme also relies on the kind sponsorship of UBS, NatWest Legal, Barbri, BPP, the University of Law, Nottingham Law School and the University of Westminster