The latest criminal legal aid regime came into force on 1 April for all grants of legal aid made on or after that date. The old law will continue to apply for a considerable time in relation to cases where legal aid was granted before then. Because of changes to civil legal aid, the criminal law contract will now only extend to civil work which involves judicial review, habeas corpus or to a limited number of proceedings under the Proceeds of Crime Act 2002. In particular, it should be noted that legal aid has been withdrawn from cash forfeiture proceedings.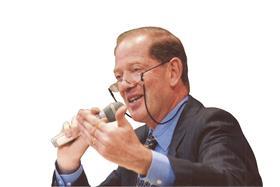 However, legal aid has been extended to all legal persons, although it will be difficult for most companies, partnerships and unincorporated associations to qualify financially. The Legal Aid (Disclosure of Information) Regulations 2013 repeat the earlier regulations allowing for the disclosure of information to the Legal Aid Authority (LAA), including that held under privilege, although the LAA must not then disclose that information for the purposes of criminal investigation or prosecution if it relates to the defence of an individual or legal person.
The Criminal Legal Aid (General) Regulations 2013 contain a number of important provisions. They confirm that if a representation order is invalid, whatever its form, no payments may be justified because of it. This is particularly significant in relation to Crown court proceedings, if a Crown court judge purports to grant legal aid when he or she has no power to do so. In addition, a duty is created to report to the LAA any failure by the client, without good reason, to comply with requirements to provide information or documents, or a statement is made which the client knew or believed to be false. Part 2 of the regulations deals with advice and assistance to those in custody. It does not therefore cover volunteers.
Part 3 deals with a substantial number of civil proceedings which are defined, for legal aid purposes, as being criminal. They are 'prescribed' proceedings. They include civil proceedings in the magistrates' court arising from a failure to pay a sum due where such a failure carries the risk of imprisonment; proceedings in relation to restraining orders on acquittal; and the whole range of proceedings, including anti-social behaviour orders, parenting orders, closure orders, football banning orders and many others.
Part 4 deals with advice and assistance. It includes advice in relation to any investigation so that investigations by the Department for Work & Pensions are covered. The provisions also cover advice in criminal proceedings in relation to appeals and prison law. However, the regulations restrict advice that can be given to witnesses, as it is now a requirement that the advice and assistance is in relation to self-incrimination. It is under these provisions that volunteers can now be advised.
Part 5 of the regulations deals with representation in criminal proceedings. Regulation 19 defines proceedings that are incidental as including committals for sentence, tainted acquittals, and confiscation and forfeiture proceedings at whatever stage they occur. However, representation in relation to the enforcement of confiscation orders requires a separate order.
Regulation 20 confirms those matters which are not incidental. These include proceedings for judicial review or habeas corpus or for breach proceedings. Regulation 24 confirms that if a representation order is granted in the magistrates' court, it extends also to the Crown court in relation to proceedings on indictment. A new application is required for appeals to the Crown court. The general regulations make provision for appeals against a refusal of legal aid.
A new set of regulations, known as the Criminal Legal Aid (Determinations by a Court and Choice of Representative) Regulations 2013, deal with a number of essential matters. They define the three emergency situations when a Crown court may grant a representation order on oral application only. These are to deal with immediate breach proceedings, contempt proceedings and warrants for arrest. The regulations provide for grants by the High Court and Court of Appeal.
Part 3 deals with choice of representative. There is little new here. There is a choice of representative unless a co-defendant already has a litigator. They must then use the same litigator unless there is or is likely to be a conflict of interest. 'Co-defendant' is defined as meaning anyone whose cases are heard together. However, when an advocate may be selected, a defendant is not bound to accept the same advocate as a co-defendant.
Regulation 14 deals with the very troubled area of whether a representation order should be transferred. The existing law will continue to apply. For there to be a transfer there must be a breakdown in the relationship between the individual and the original provider such that effective representation can no longer be provided, or there must be some other compelling reason why effective representation can no longer be provided. In addition, a transfer will be required where the original provider considers there to be a professional duty to withdraw from the case or is no longer able to represent the individual through circumstances outside his or her control.
There is no choice of advocate in the magistrates' court unless there are extradition proceedings, or an indictable offence and the court determines that because there are unusually grave or difficult circumstances representation by an advocate would be desirable. Regulation 17 lays out the detailed provisions which allow for more than one advocate to be used at the Crown court. Regulation 19 limits the number of judges who can make such orders.
The Criminal Legal Aid (Financial Resources) Regulations 2013 provide that there is no means test in order to receive assistance with a series of matters. These include: advocacy assistance in the magistrates' court, such as warrants for further detention, duty solicitor work, volunteers at the police station, interviews for serious service offences and video identification procedures.
The Criminal Legal Aid (Remuneration) Regulations 2013 replicate the former funding order but also contain all the rates of remuneration for crime lower work, that is advice and assistance, advocacy assistance and representation in criminal cases in the magistrates' courts and police stations. These regulations contain the obligation to report very high-cost cases and the sanction for those who do not comply.
The Criminal Legal Aid (Recovery of Defence Costs Orders) Regulations 2013 deal with the recovery of costs in the High Court and Court of Appeal. The Criminal Legal Aid (Contribution Orders) Regulations 2013 provide for contributions in relation to Crown court matters and for the enforcement of any order made. The Legal Aid (Information about Financial Resources) Regulations 2013 allow for information exchange between the LAA and HM Revenue & Customs, among others.
Finally, the Legal Aid (Financial Resources and Payment for Services) (Legal Persons) Regulations 2013 provide the basis on which legal persons who are not individuals may qualify for legal aid. The director must determine that the legal person's financial resources are such that they are eligible.
Meanwhile, the Legal Aid Agency has made the Very High Cost (Crime) Cases Arrangements 2013 dealing with the conduct of such cases.
Anthony Edwards, TV Edwards